May 23: Top 10 Diabetes Reversal- Health Transformation Stories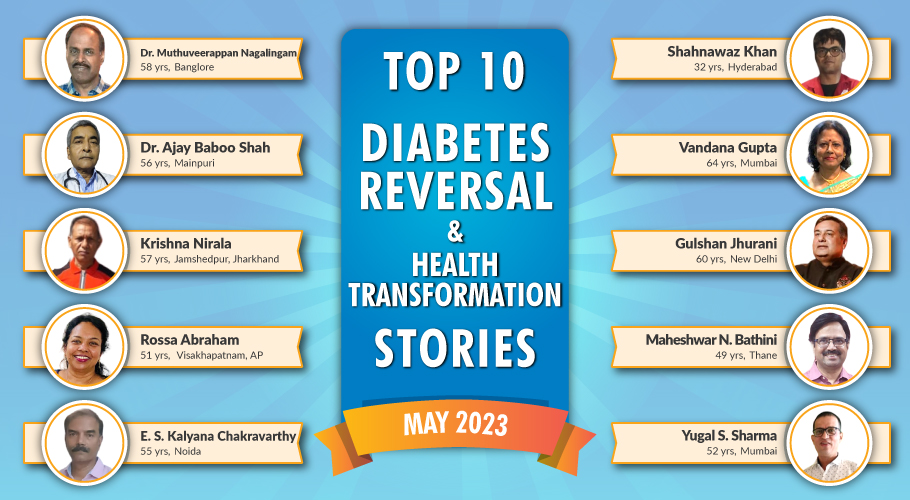 The very mention of diabetes brings a sense of dread to people's minds. This silent intruder stealthily disrupts our lives, inflicting a relentless burden on both our bodies and minds.

The unyielding grasp that diabetes has over blood sugar levels is like a relentless tide, bringing forth a plethora of complications that impact vital organs and overall well-being. But at FFD, we have made it our mission to reverse this disease for as many people as possible; in fact, we've successfully treated over 30,000 individuals!

And now, we're aiming for even more: one lakh free from this disorder! Our efforts were particularly fruitful last month - May was an incredibly proud moment for us all thanks to the incredible success stories.
It is with great excitement and pride that we share with you the top 10 participants who triumphed over their challenges by following diabetes reversal guidelines from FFD.

Dr. Muthuveerappan Nagalingam | Age- 58 Years | Bangalore | Scientist

He is a scientist from Bangalore who discovered about his diabetes during a routine check-up in 2018. At one point, medicines didn't work, so he had to decide whether to take more medication or change his lifestyle and eating habits. He opted for latter, decided to join FFD and now has freedom from medicine and a controlled blood pressure.
Read his inspiring story here -

Dr. Ajay Baboo Shah | Age- 56 Years | Manipuri | Pediatrician
He is a Pediatrician who discovered about his diabetes during a thorough check-up done mainly for missed heart beats and disturbed heart rate. Being a doctor he knew only diet and exercise was not enough. He grabbed the opportunity and joined FFD. He is now free from diabetes medicines, lost 13.5 kg of weight and a more positive person.
Read his motivating story here -

Mr. Krishna Nirala | Age- 57 Years | Jamshedpur, Jharkhand | DGM -Minning Co
He is a DGM from Jharkhand who learned about his diabetes when he hurt his hand. His condition worsened to the stage where he had to be maintained on insulin and medicine both. He got hopes about his improvement when he first heard about FFD through a social group. Upon joining FFD, he is now free from both, insulin and diabetes medicine.
Read his full story to learn how FFD helped him regain health