Vijayalakshmi Sundaram: FFD helped me shed 21 kg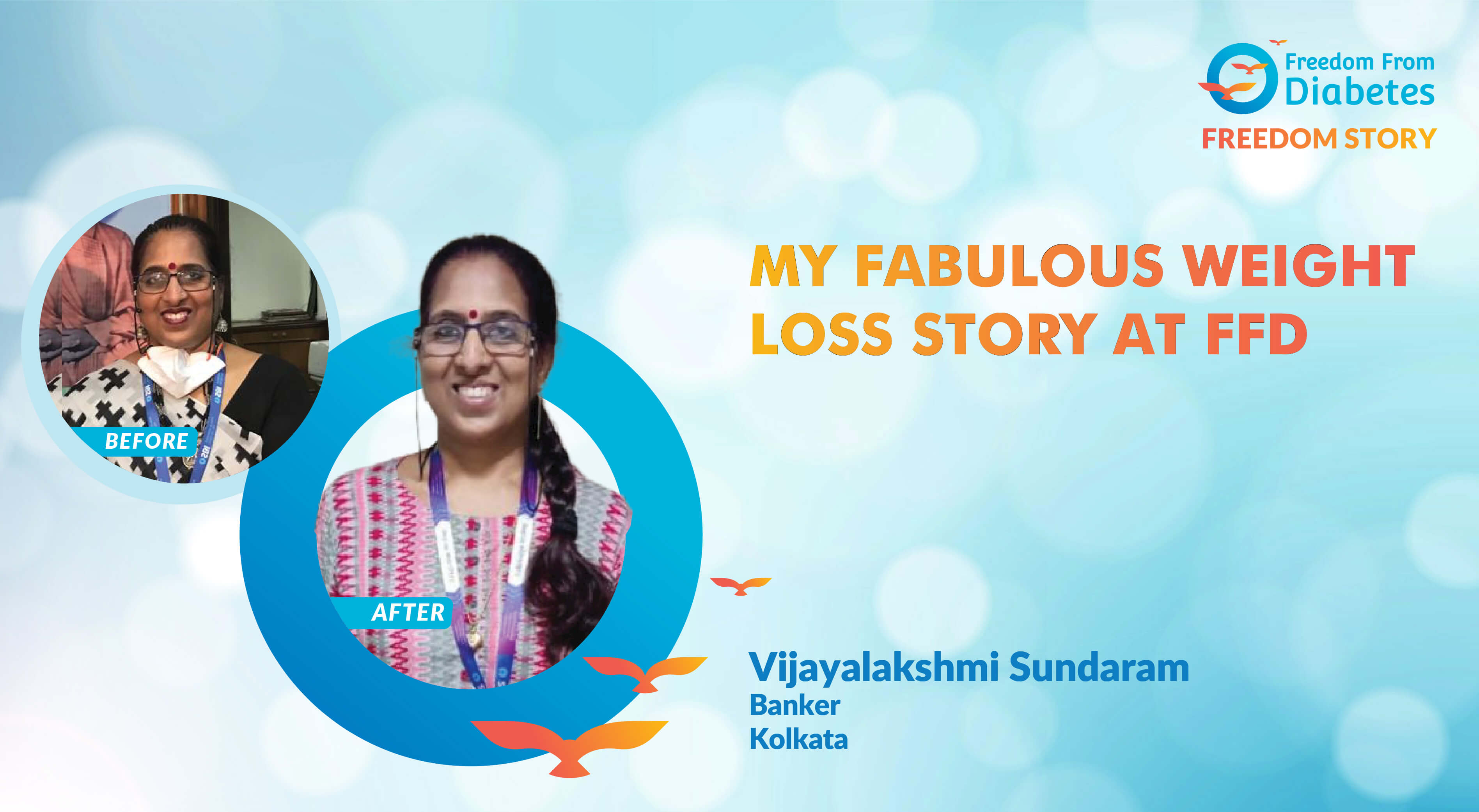 Name- Mrs. Vijayalakshmi Sundaram
Age- 56 years
Profession- Banker
Place - Kolkata
Right guidance, the Right direction, and Right people in your life make the real difference. I came across FFD and life changed magically.
I am Vijayalakshmi Sundaram, a 56 years old, Banker, from Kolkata. A banking job means a sedentary lifestyle and a hectic work schedule. I suffered from a lot of problems in the form of heavyweight, IBS, hypertension, osteoarthritis - knee pain, fatty liver grade 1, migraine, etc. Underwent laparoscopy of the gall bladder in 1998.
I realized that excess weight was adding to my problems and vice versa. So losing weight should be my first priority and started looking for weight loss programs.
My younger brother is a diabetic and through him only I came to know about FFD. As the name suggested, Freedom from Diabetes, I was under the impression that FFD only treats diabetic people. But came to know that they reverse other lifestyle disorders like obesity, PCOD, cholesterol, BP, etc. too.
There was no doubt left. I attended the Discover Reversal Session where it got more clear that FFD is the right choice for weight loss and I enrolled in HTP 71 which started on 12th June 2021.
Mrs. Vijayalakshmi Sundaram
My aim was to lose weight and become fit and healthy. I have explained the IBS diet regime at first since I suffer from IBS. This was really helpful. Due to knee pain, I was not able to do knee push-ups and palm planks. FFD exercise experts gave me valuable advice to do Wall push-ups and nitric oxide dump instead.
I am in great praise of FFD's functioning style. I had doubts whether I was following proper forms and techniques in exercises. For this, I was asked to send an exercise video. The FFD exercise expert watched my video thoroughly and guided me where I was wrong and designed a proper exercise regime for me. It was at this point, that I realized how well these people utilize the technology available.
I am not a diabetic and joined FFD for weight loss. The program has helped me tremendously and I have lost 21 kg! One has to be very determined and have a lot of willpower to stick to the diet and exercise and now I have achieved my ideal weight and am feeling great! I have also inspired many people to join FFD for weight loss.
I am indebted to FFD for guiding me on this transformational journey and I will be forever grateful to the diet expert Suchetna and exercise expert Eeshan for their invaluable guidance! Thank you so much, FFD! You completely changed my life for the better! I feel 20 years younger now and very fit and healthy!
Thank you, FFD.