I'm a doctor who didn't think diabetes could be reversed. FFD proved me wrong!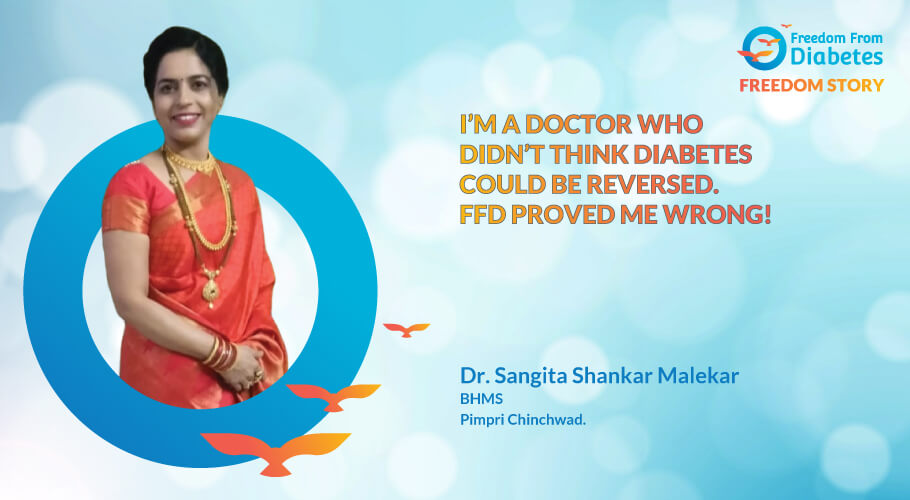 Name- Dr. Sangita Shankar Malekar
Age- 50 years
Profession- Doctor
Place - Pimpri Chinchwad, Pune
Four years ago, I fell victim to diabetes. The only thing surprising about this is that I am a doctor myself, with a family history of diabetes—my mother and younger brother have been diabetic since the past 15 years. But that's the thing about diabetes. It sneaks up on you, and most people don't realize they succumbed until it's quite bad and the symptoms cannot be ignored. Luckily, in my case, I discovered I was diabetic during a routine blood test, which I take regularly as I suffer from hypothyroidism.
As time went by, I began experiencing several problems that I knew were caused by my diabetes: my weight began increasing and I was constantly fatigued. I also began to suffer from nagging leg pain and insomnia. I felt stressed out and emotionally agitated. I run a small hospital in PCMC, which meant the burden of work left little time for myself. This further increased my frustration. I began to crave sweets after food. Despite all these problems, I wanted to avoid medicines.
Around this time, I was pursuing a Post Graduate Diploma in Yoga Training (PGDYT) at Symbiosis University, and it helped me a lot. It also gave me confidence that I could deal with my diabetes holistically. Even then, the thought of reversal didn't occur to me. By chance, one of my relatives told me about Dr. Pramod Tripathi and his tremendous success in reversing diabetes. I began to research Dr. Tripathi and FFD on the net. What I read was tremendously exciting. Filled with hope, I immediately enrolled in the Intensive Reversal Program (IRP) Batch 51.
Dr. Sangita Shankar Malekar
I was very excited to attend the Online Induction Program, and my excitement grew with each successive session; because, the results began coming almost immediately. Within one week, my blood sugar level (BSL) went down to the normal range, and I didn't need any medicine. In three months, my weight, which was 58 kgs before joining reduced by 10 kgs to 48 kgs. Even my hypothyroidism began to improve, allowing me to reduce my Thyroxine tab dose significantly.
I found the inner transformation phase, well, transformative. Among other things, the techniques in this phase taught me how to control my emotional disturbances. I began feeling very light, happy, and positive.
I found the team at FFD very helpful and knowledgeable. Ritu Ma'am taught me meditation so well that it is now an integral part of my daily routine. Dr. Jitendra and the other dieticians provided exceptional dietary guidance and the exercise experts were very accommodating but thorough.
Although my hectic schedule made gymming difficult, I still do all the warm-up exercises, yoga, pranayam, meditation, and Suryanamaskar regularly. And, I ensure I follow FFD's dietary strictures religiously. I will always be grateful to Dr. Pramod and FFD for setting me on the freedom path, which I know I shall follow forever.