10 Best food products for diabetics to pick from supermarket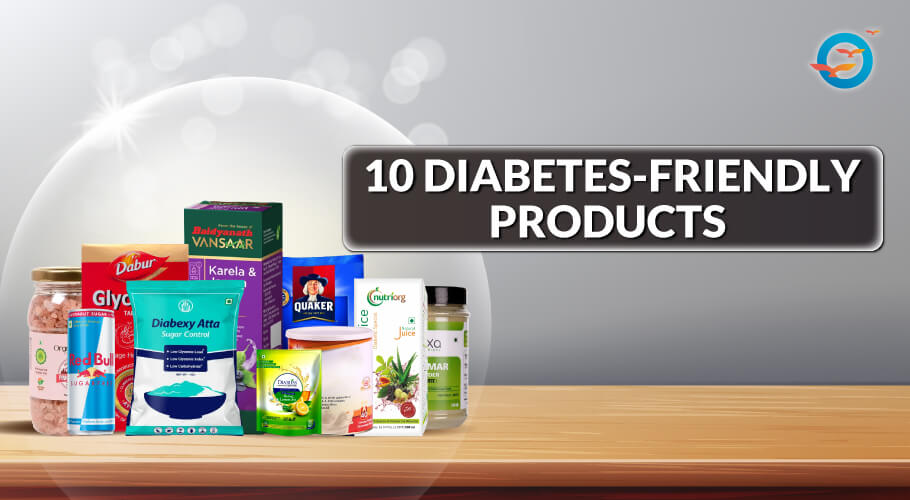 The most familiar symptom of diabetes, as most of us know, is high blood sugar levels (BSL), caused by compromised functionality of insulin, i.e. inability to let glucose from the blood into the body's cells. This causes glucose to collect in the bloodstream, leading to high blood sugar. Since this glucose comes from the food we eat, it follows that controlling—and correcting—our diet is a key step to controlling BSL.
The ancient Indian healing art of Ayurveda, with its in-depth understanding of the medicinal properties of common herbs, spices, and greens, is an incredible source of help here. Many of these herbs, spices, and plants are commonly used in Ayurvedic preparations. And the most potent combinations can now be found in OTC products marketed by popular FMCG brands.
Here are the 10 best food products for diabetics that are highly popular with consumers


Patanjali's Madhunasni
Patanjali, one of the most popular FMCG brands in recent times, utilizes ingredients prescribed by Ayurveda in many of its formulations. Madhunashini is one of them.
This ayurvedic preparation form Patanjali is commonly used to treat diabetes, improve BSL management, and help avoid diabetic complications that could result from the effect of high blood glucose levels on the body's organs.
Madhunashini is said to be able to provide several benefits, including
Overall Health Improvement
Offer protection from the effects of high BSL to nerves, heart, eyes, blood vessels, and kidneys
Improve the functioning of the body's vital organs
find more information about Madhunashini Vati for Diabetes, here
Dabur Glycodab
Dabur is one of India's most reputed manufacturers of health care products. On 14 Nov, 2017, on the occasion of World Diabetes Day, Dabur launched a novel anti-diabetic medication called Glycodab, produced jointly with AYUSH government ministry,
Glycodab brings the science and learnings behind traditional Ayurvedic practices to contemporary healthcare. Glycodab has successfully navigated many clinical studies and experiments, including one study conducted by Madhumeha (Non-Insulin Dependent Diabetes Mellitus, NIDDM), which showed that after 24 weeks of using Dabur Glycodab Tablets, subjects were able to reduce fasting and post-prandial BSL. Dabur Glycodab is freely available in most general stores and can also be sourced online.
You can find more information about Dabur Glucodab, here
Diabetes Powder Pentasure DM
With diet playing such a pivotal role in BSL management, it can be stressful to plan and prepare the ideal diabetic meal. One easy solution is a purpose-made meal replacement powder for diabetics, such as Pentasure DM. Produced and marketed by Pentasure Nutrition, it is a shortcut to a diabetes-safe meal.
The diabetes powder has been formulated in line with World Health Organization (WHO) & America Dietetic Association (ADA) guidelines, say the manufacturer, and can be used as a meal replacement in a diabetes management plan.
Benefits

Pentasure DM meal replacement powder contains significant protein and fiber, both of which are helpful in controlling spikes in blood sugar levels (BSL). It also contains Docosahexaenoic acid (DHA) & alpha-lipoic acid (ALA), which can reduce fasting blood glucose, as per some studies. ALA is also a powerful antioxidant and can help alleviate symptoms of diabetic peripheral neuropathy, i.e. i.e. pins-and-needles, numbness, or burning sensations in the arms, hands, legs, or feet as a result of nerve damage.
According to its manufacturer, Diabetic powder Pentasure DM includes special nutrients that help maintain normal blood sugar levels and is sucrose-free.
Read more about Diabetic powder Pentasure DM
Baidyanath Karela Jamun Juice
Karela—bitter gourd—and Jamun—black plum—are both celebrated across India for their BSL-lowering properties. They are used in many Ayurvedic anti-diabetic medications.
Baidyanath—A popular Indian brand of OTC medical preparations, has created a unique product that combines the potent healing virtues of both these natural products to benefit diabetics.
Benefits

Jamun, aka black plum, is rich in antioxidants called anthocyanin. Its fruit and seeds are both potent anti-diabetic sources. Empirical studies suggest that jamuns are not just blood sugar controllers by also natural blood purifiers. The fruit is good for gut health, improves overall immunity, and is used to treat anemia.
Karela, aka, bitter gourd in English, too offers many benefits for the diabetic, thanks to its low calories and carbs content, rich vitamin, and mineral profile, and antioxidant content.
Read more about Baidyanath Karela Jamun Juice
Nutriorg Diabetic Care Juice
Ayurveda relies on many common plants, fruits, and herbs that have uncommonly potent healing properties. The bitter gourd (karela), black plum (jamun), Indian gooseberry (amla), Gymnema Sylvestre (gurmar), Terminalia Chebula harad), and aloe vera are used in some Ayurvedic preparations to treat a host of health conditions, including high blood sugar.
Nutriorg Diabetic Care Juice leverages the anti-diabetic properties of these plants to create a potent preparation to lower blood glucose levels.
You can learn more about the product, ingredients, and benefits, here.
Diabexy Diabetic food product Atta Sugar
Indians and wheat rotis go together, and have gone together for thousands of years. And there is a lot of good in wheat: it is loaded with macronutrients, high in fiber, and economical to boot. But it does have a few negatives as well. It is not suitable for people allergic to gluten or those suffering from celiac disease.
And, as a result of its high carbohydrate content, it has a high Glycemic load, which makes it unhealthy for diabetics. It is also said to cause digestive problems, including flatulence, bloating, and constipation in some people. But there are some wheat varieties that are actually good for diabetics, such as Khapli, Durum, Bansi, and Spelt. These variants are known to dampen glucose spikes.
Diabexy's Sugar Control Atta is a readymade solution that offers the benefits of these variants. Diabexy Sugar Control Atta has a low glycemic load, which makes it suitable for diabetics to have, because of which, Diabexy Atta is said to have 85% less impact on BSL than normal wheat atta.
For more details on Diabexy Sugar Control Atta, click here.
Redbull Sugar-free Drink
A side effect of insulin resistance is the body's inability to burn glucose to create energy. Because of this, diabetics often suffer from debilitating lethargy and fatigue, which can make physical activity a non-starter. Sadly, diabetics can't just reach out for a generic energy drink as these are mostly loaded with sugar. But there is one notable exception: Redbull Sugar-free Drink.
The product literature, which claims it contains just five calories per can, and contains no added sugar, is giving wings to diabetics across the world.
But how healthy is it for diabetics? To find out, read our article on the topic of Is Red Bull Drink Good for diabetic patients?
Quaker Instant Oats
Fiber plays a key role in damping down blood sugar spikes, as it lowers the rate of glucose absorption into the bloodstream. In addition, fiber-rich foods are also heart healthy, being naturally Lowe in cholesterol. Fiber has another superpower: it is an excellent weight loss food, as it induces feelings of satiety and staves off hunger and food cravings. Weight loss is also of paramount importance to people suffering from metabolic disorders like diabetes, heart disease, etc.
If you're among the millions of people across the world who find it tough to include sufficient fiber in every meal, Quaker has a solution for you. For decades, Quaker's Instant Oats has been providing a healthy start through breakfasts that are quick to prepare and delicious to consume.
There are many benefits to eating fiber-rich food, and Quaker Instant Oats can help you get a jump on your daily quota. Learn how, here.
Organic India Pink Himalayan Salt
From being celebrated for its flavour to being demonized for being a risk factor for heart disease and BP to receiving recognition for newly discovered health benefits, salt has come a full circle. But not all salts are created equal, and perhaps the one that deserves the most attention is also one of the rarest: Pink Himalayan salt.
Mined exclusively in the Himalayan mountains of the Hindu Kush, Pink Himalayan salt, or Sendha Namak as it is known colloquially, gets its distinctive pink color from its content of trace minerals like magnesium, potassium, and calcium.
Organic India now offers this unique variant of salt for the benefit of all. It contains no chemicals and offers many health benefits, including essential trace minerals, and has a lower sodium content, compared to table salt.
Himalayan pink salt, or sendha namak as it is known locally, comes from the Himalayas. It is mined like rock salt, and gets its distinctive pink hue from trace minerals like magnesium, potassium, and calcium, which are present in the salt in tiny amounts. It is said to be the purest of all salt varieties as it contains no chemicals.
There are many reasons to add pink Himalayan salt in general to your diet, and you can learn all about them, here.
Diabliss herbal diabetes-friendly herbal lemon tea
Tea—the cup that cheers, has long been part of Indian culture. In fact, tea is a staple throughout the world, notably in Asia, where it is drunk copiously through the day. There are several excellent reasons for this. Tea is, of course, a mild stimulant, which is why we enjoy our morning cuppa so much. But it is also a health drink, an anti-inflammatory agent, an immunity booster; it prevents clogging of arteries and is a mood enhancer.
But availing of these benefits depends to a large extent on the way it is consumed—especially if one is diabetic. Sugar is definitely a no-no, and so is milk, which contains certain compounds known as Insulin-like Growth Factors (IGF) that compromise insulin functionality. But that doesn't mean diabetics—or anyone keen to Iive healthily—can't enjoy their tea. Thanks to Diabliss.
Diabliss Herbal Diabetes-Friendly Teas, which come in a variety of flavors other than lemon can be beneficial to your health. Studies show that the lemon in herbal teas reduces glucose synthesis and thus, reduces blood sugar levels too. Herbal teas also help fight inflammation, a common diabetes side effect. Read more about Diabliss Herbal Lemon Tea
Conclusion

Ayurvedic preparations utilize a number of everyday plants and plant parts. Many of these plants have very potent anti-diabetic properties, which a number of reputed brands have leveraged to create over-the-counter (OTC) medications to help diabetics better manage their diabetes.
However, before starting any new course of medicine or making any change to your diet, it is advisable to talk to your doctor or a trusted medical professional.


Disclaimer
The contents of this article are intended for informative purposes only. We make no claims about the products in any way. Before making any change to your diet or adding any medication, it is recommended that you consult a qualified medical professional.

The Products mentioned above will help you manage diabetes, To reverse diabetes, Join Dr. Pramod Tripathi's upcoming Discover Reversal Session (DRS) Now.