July 22: Top 10 Diabetes Reversal- Health Transformation Stories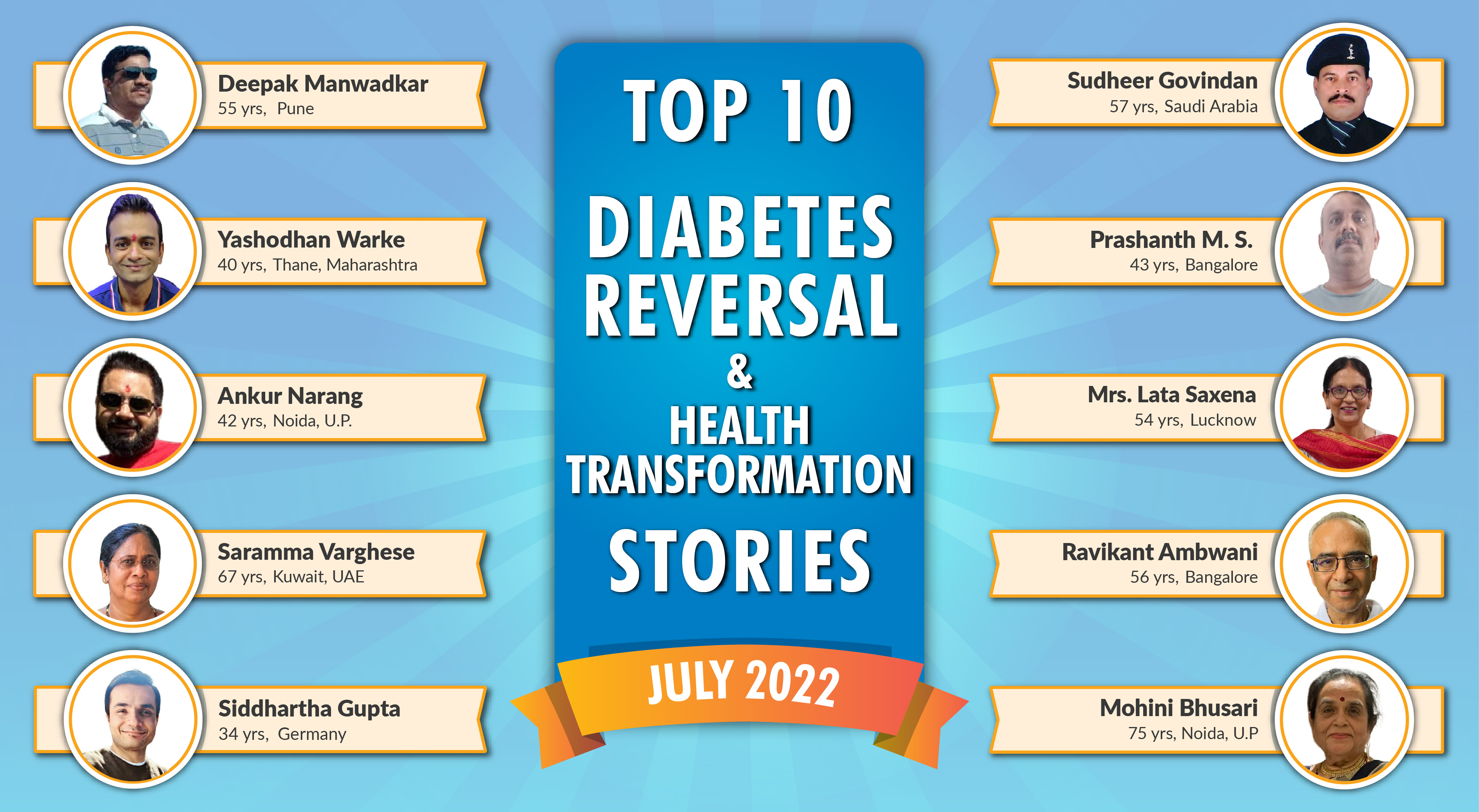 July month is truly dedicated to health as it starts with National Doctors' day. 1st July is the day we acknowledge the contributions of their service to mankind. They have made our life truly a better place.
Freedom from Diabetes is an organization that helps people reverse their diabetes and lifestyle disorders. Our team of experts including doctors, dietitians, exercise experts, psychologists, and mentors collectively work hard to make people free from medicine and lead a healthy and fitter life. So far, we have freed 12500+ people from the shackles of diabetes medicine and insulin.
FFD's contribution to July month has also been incredible. This month too, many people became free of their diabetes medicine, insulin, excess weight, BP medicine, etc. These 10 success stories from July which would give you an idea of how and in what way one can truly achieve different milestones in health.
Using the FFD's Diabetes Reversal Program, these individuals have regained control of their health.
Mr. Deepak Brahma Manwadkar | Age- 55 years | Pune
Mr. Manwadkar is a 55 years young gentleman from Pune who came to know about his diabetes in the preoperative test results. The news of diabetes was not a pleasant one plus there was added fear of being on medicines for life. Luckily, he came to know about FFD and his life just changed. His diabetes medicines have stopped now and he is preparing to clear GTT.
Read his story to know how he improved his health with FFD's help.

Mr. Yashodhan Warke | Age- 40 years | Mumbai
His story is a good example of FFD's customized treatment. Mr. Warke is a 40-year-old gentleman who works as a Sr. Manager in a pharmaceutical company.
He faced a lot of problems like acidity, joint pain, frozen shoulder, headache, and more along with diabetes. FFD was introduced to him by a past participant and he immediately joined it. He is very happy as he never took any medicines for diabetes and will never have to take them in the future.
Read his story about type 2 diabetes reversal success story
Mr. Ankur Narang | Age- 42 years | Noida, U.P.
He is a 42 years young Software Professional from Noida. Got to know about diabetes when he went to his doctor with a complaint of headaches.
His HbA1c was high at 8. Joined FFD on his friend's advice and is very happy with the outcome. His medicines stopped in just 15 days of joining FFD and he lost 13-14 kg of weight too.
Read his story to know how he became energetic from lethargic with FFD's help.
Mrs. Saramma Varghese | Age- 67 years | Kuwait, UAE
This is a motivational story from Kuwait, UAE. Mrs. Varghese Is a 67-year-old radiographer who took diabetes medicines for a while and later on had to be shifted to insulin up to 46 units/day. A friend of hers told her that Diabetes could be reversed and FFD helps in doing it. Without stopping for a second she joined FFD. She is free of insulin, medicines are reduced, and lost 10 kg of weight too.
Read her diabetes reversal success story
Mr. Siddhartha Gupta | Age- 34 years | Germany
This story is from Germany. Mr. Gupta Is a 34 years young researcher who was diagnosed with diabetes at a very young age of 22. Sugars were so high that he was directly put on insulin. The insulin dose went up to 20 units/day. His deep urge to come out of his diabetes brought him to FFD. He is happy as his 20 units of insulin stopped in just 20 days. Not only that FFD has helped him change his lifestyle.
Go through his story of how he beat diabetes