October 23 : Top 10 Diabetes Reversal- Health Transformation Stories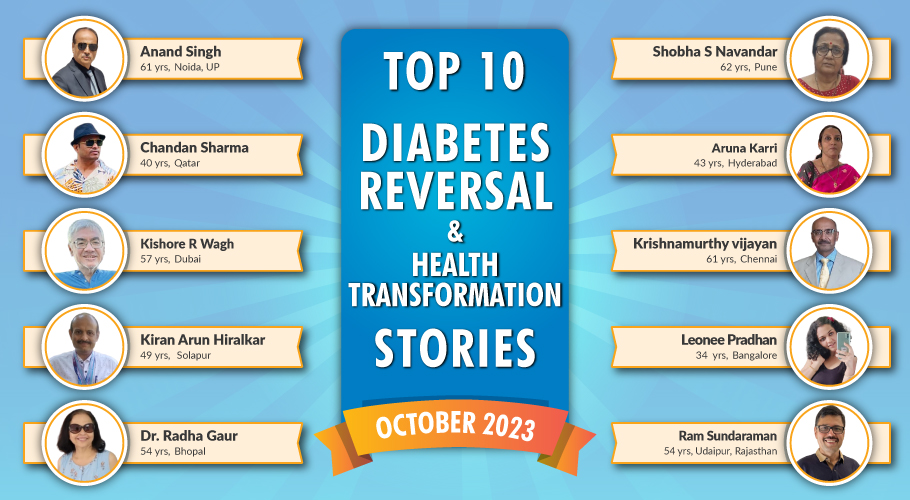 The month of October, commencing with World Vegetarian Day has been a remarkable one for Freedom from Diabetes.
Dr. Pramod Tripathi visited to Germany to present our study at the European Association for the Study of Diabetes in Hamburg.
We are thrilled to recognize the top 10 achievers of October 2023.
Top 10 success stories of October

Mr. Anand Singh | Age - 61 Years | Noida, UP | Sr. Government Officer
Explore the comprehensive account of his journey, featuring the reversal of insulin dependency, diabetes management, and a remarkable weight loss of 52 kilograms through FFD's treatment.

Mr. Chandan Sharma | Age - 40 Years | Qatar | Sr. Engineer

A senior engineer residing in Qatar, Mr. Chandan received a diabetes and high cholesterol diagnosis in 2022.
Explore his detailed narrative to understand how FFD guided him to manage diabetes and cholesterol without medication, while also achieving a remarkable weight loss of 19 kilograms.

Mr. Kishore Wagh | Age - 57 Years | Dubai | Business Owner

Mr. Kishore Wagh, a business owner based in Dubai, confronted the challenges of obesity and high cholesterol.
Motivated by a strong desire to shed excess weight and regain control over his health, he was introduced to FFD through a cousin. This decision marked a turning point in his life.
FFD enabled him to discontinue cholesterol medication and achieve a remarkable weight loss of 15 kilograms. This makeover has empowered him to easily run 2-3 kilometers.