June 2022: Top 10 Diabetes Reversal and Health Transformation Stories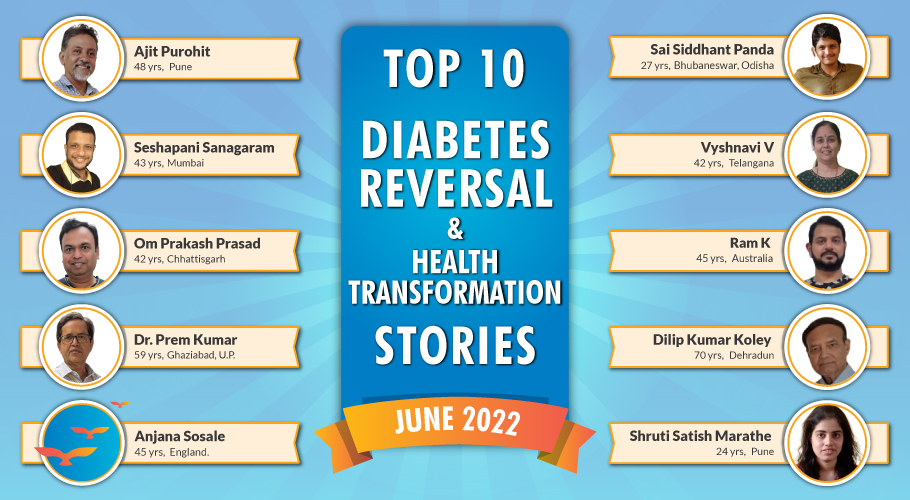 June is a beautiful and joyous month of the year that celebrates many things. June 12th is celebrated as Family Health and Fitness Day. June 21st is celebrated as International Yoga Day every year, etc. June was a great month for Freedom from Diabetes too.
We witnessed many participants becoming free from their diabetes medicines and insulin. This month saw many succeed in losing 10+ kg weight too. For some, their BP and cholesterol medicines have also stopped. All-in-all, it has been a proud month for us.
Here are the top 10 success stories from the month of June which will definitely inspire you
Mr. Ajit Purohit | Age- 48 years | Pune
Mr. Purohit is a 48 years old government employee from Pune. He has a strong family history of diabetes on the maternal side and thought he would require to be on medicines for all his life. Came to know about Freedom from Diabetes through a school friend, joined it and he is extremely happy with his progress. His diabetes medicines stopped in just 4 days of joining the FFD program, lost a good amount of weight, and has taken up cycling as his athletic identity.
Read his full diabetes reversal success story
Mr. Seshapani Sanagaram | Age- 43 years | Mumbai
He is a 43-year-old gentleman from Mumbai. He got diabetes at a very young age of 28-29. Life was difficult with BMI being more than 30 along with cholesterol medicine and blood thinners. A colleague of his from Pune informed him about Freedom from Diabetes which he joined and the rest is history. He is not only free from diabetes medicines but lost a considerable amount of weight too. He is happy with his overall progress in health with FFD.
Do read his full reversal story here
Mr. Om Prakash Prasad | Age- 42 years | Chhattisgarh
FFD has got patients from all over India. This case is from a different place Chhattisgarh. Om Prakash Prasad is a 42 years young Engineer working in a Public Sector Company. Came to know about his diabetes in 2008. Suffered from a frozen shoulder and was on medicine for cholesterol too. Came to know about FFD through Facebook, joined the program and all good things happened to him. Not only he has become free of diabetes and cholesterol medicine but his frozen shoulder problem is also resolved after joining FFD.
Read his transformational story
Dr. Prem Kumar | Age- 59 years | Ghaziabad, U.P.
His story is a superb example of the improvement in overall health with FFD. He is a 59 years young Sr. Scientist from Ghaziabad who suffered from diabetes, cholesterol, and hypertension. His search on the internet led him to FFD which changed his life totally. He became diabetes medicine free on the very 7th day of joining the FFD program. His cholesterol medicines have been reduced to half and he could easily do 60 hours of water fast.
Mrs. Anjana Krishnaswamy Sosale | Age- 45 years | England, U.K.
She is a 45 years young and cheerful corporate employee settled in England. Luckily nondiabetic but a victim of a lethargic lifestyle. She was facing a lot of problems due to being overweight. Tried several weight loss programs in England but they did not help much. Got introduced to FFD through a relative and decided to join it. She found the FFD diet very helpful to her and succeeded in losing considerable weight in just 3 months. She is very satisfied with her treatment with FFD and plans to shed more 15 kg.
Read her weight loss success story