Pratima Kasbe: 27 Years of Insulin Stopped in just 45 days!!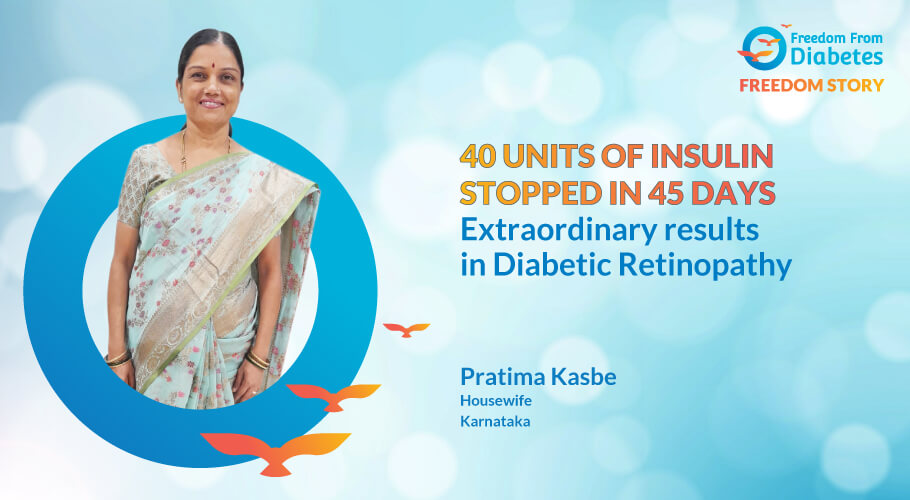 Name- Mrs. Pratima Kasbe
Age- 54 years
Profession- Housewife
Place - Karnataka, India
I am Mrs. Pratima Kasbe, a housewife from Raichur, Karnataka. Was diagnosed with diabetes during my first pregnancy in 1993 when my sugars were found to be very high and since then have been taking insulin until I was introduced to FFD by a very good friend of mine, an old participant.
I just did not believe her, argued with her that it could not be true. The age-old belief and worldwide treatment could not be proved wrong. I did not want to take any risk at this age.
My doctor friends and relatives all discouraged me, but my good friend patiently called me again and again until one fine day I thought to give it a try after 3 months of my friend telling me about FFD. Finally, I joined FFD in the 65th batch on the 12th of December 2020.
Earlier, I was on multiple medicines for many side effects of diabetes. I already had undergone laser treatment for retinopathy. When I talked to my ophthalmologist and told her about FFD she bluntly refused and advised me not to take such a big decision and risk my health, but somewhere my friend, The Good Samaritan's words kept ringing in my mind and I finally joined FFD.
I was on insulin for 27 years on Human Mixtard 40 units per day 23 units in the morning/ 17 units in the night. Plus was on oral anti-diabetic medicine as well - Janumet 50 / 500 and Eurepa I MG.
In addition to these, I was also taking Nervup Forte twice daily, Neurobion tablets twice daily, GLA M once daily and Cardace Protect 2.5 mg once daily.
Joining FFD was the best thing that happened. My 27 years of insulin stopped in exactly 45 days of joining the program and got Extraordinary results in diabetic retinopathy Now, I am on Janumet 50/500 twice a day and Reclide 40 twice daily.
My peripheral neuropathy started reducing within a week of joining FFD. The diet, smoothie, protein breakfast, 25% meal, the soaked nuts, the Diabetes-friendly seeds, all did wonder.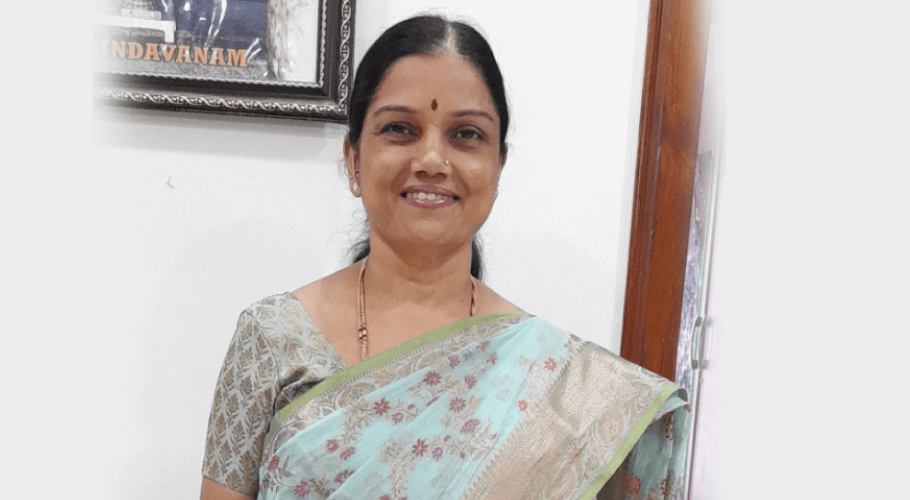 Mrs. Pratima Kasbe
I started reducing weight becoming more energetic and started loving myself and my life again. World's best warm-up, yoga, meditation, pranayama, body strengthening exercises, all in all, are wonderful.
Six of my family members have joined FFD looking at my success. They are in various batches and are very happy. My ophthalmologist is wonderstruck as to how this Diabetes reversal is possible and is now interested in introducing FFD to her patients and contacts.
I have no words to thank Dr. Tripathi Ji and Dr. Malhar. My life has changed for the better since then The entire FFD, I think, is a team of magicians doing wonders.
Each one working in FFD needs to be applauded. The doctors, the dieticians, the exercise experts, the mentors, the WhatsApp managers, each one is totally dedicated to the Diabetes Reversal program.
I would like to add one more thing. My father, Mr. Hanumanthrao Kulkarni, 85 years old, in spite of being on a strict vegan diet, following a disciplined life, was on insulin. He joined FFD and became free of insulin in just 2 months. This is no less than a miracle.
Without my husband's support and encouragement, this would not have been possible. Now, he tells all his friends and relatives about FFD and tells them to join the program.
Thank you, Dr. Pramod Tripathi and FFD.