Winter Diet Tips For Diabetics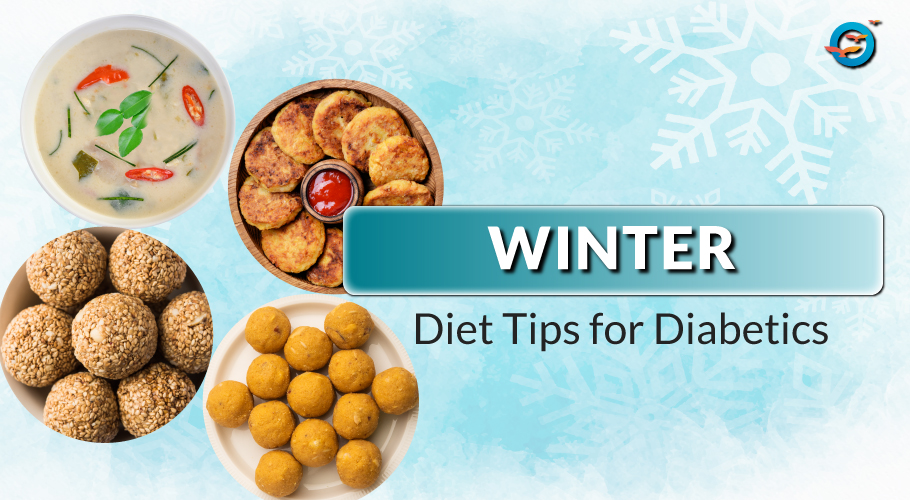 India is known as the diabetes capital of the world, with about 70 million people suffering from diabetes. It's a serious condition that can be managed by eating well, exercising regularly, and changing other aspects of one's lifestyle. As the seasons change, so does the way you manage your diabetes. However, with the ongoing pandemic and the potential of other seasonal diseases on the horizon, we understand that you may be more concerned than delighted about winter this year.

The winter season, especially if you have diabetes, can make it difficult to stick to your regular routines and make you want to stay in. Understanding the issues you may face and taking preventative actions, on the other hand, might help you better deal with the challenges of the winter months.here is a winter meal plan for diabetics that will help them keep their blood sugar levels under control.



How does winter affect diabetes?




When temperatures begin to get out of control, so does your blood sugar. Extremes of both cold and hot weather can have an impact on your body's ability to produce and use insulin in a negative way.
But our aim should be to not allow the environment to have the upper hand. Following a few steps, you can definitely control the situation.
How do you manage diabetes in the winter?




It is very common to feel hungrier especially for diabetics at this time of the year as cold weather speeds up our metabolism. The colder weather causes a drop in our body temperature, which means our appetites get stimulated as a result.
This is because having food helps generate internal heat, subsequently leading to a rise in body temperature.
During winter, the body works harder and uses more energy to keep you warm, so your desire to eat more comes from your body's natural increase in energy use.
However, this cannot be an excuse to overeat! Healthy snacking during winter is important and it becomes even more important if you are a diabetic.


Freedom from Diabetes has found out various options of healthy snacking in winter after a deep study and they are as follows -


1) Vegetable soups in the evening just before the dinner - made from a variety of options - tomato, bottle gourd, peas, mixed vegetables, mushroom
2) Thai soup
3) Lentil soup
4) Mulligatawny soup
5) Vegetable stew
6) Quinoa stew ( only for lunch and dinner )
7) Barley soup ( lunch/ dinner )
8) Vegan kadhi
9) Steamed/ parboiled sprout chat - in the morning as breakfast or with dinner
10) Steamed or grilled salads
11) Stir-fried vegetables
12) Laddu made from nuts, seeds, and dates
13) Herbal teas and infusions made from lemongrass, peppercorns, ginger, cinnamon, cardamom
14) Hurda (fresh jowar roasted) with salad (Once a week) in lunch
15) Warm Fresh chana/ harabhara salad
16) Things made from til
17) Bajra (Only in lunch or Dinner)
If you observe carefully you will realize that soups are a great option instead of unhealthy snacking. They fulfill your needs as well as are low in calories. Steamed/ parboiled sprout chat in the morning as breakfast or with dinner can be really refreshing.
Especially for winters salads can be had in steamed or grilled form. Sweet cravings can be dealt with by having laddus made from nuts, seeds, and dates. These are something very healthy at the same time delicious.
Tea cravings can be dealt with by having herbal teas and infusions made from lemongrass, peppercorns, ginger, cinnamon, cardamom. These are not only healthy but tasty options too. Hurda loving people can have hurda (fresh jowar roasted) with salad in the lunch.
The above options are general ones that can be commonly had. But each diabetic is different with different needs for which they need special diet instructions.
Freedom from Diabetes has a dedicated diet experts team that gives personalized diet advice to each and every individual. We have seen this helps tremendously in the 'Diabetes reversal process' or reversing diabetes.
Join our Discover Reversal Session to get customized treatment in all spheres - diet, exercise, inner transformation, etc. and fast-track your reversal.
Disclaimer:
This Blog solely serves our marketing purposes, for Authentic knowledge for this topic, Please join our upcoming Discover Reversal Session