April 2022: Top 10 Diabetes Reversal and Health Transformation Stories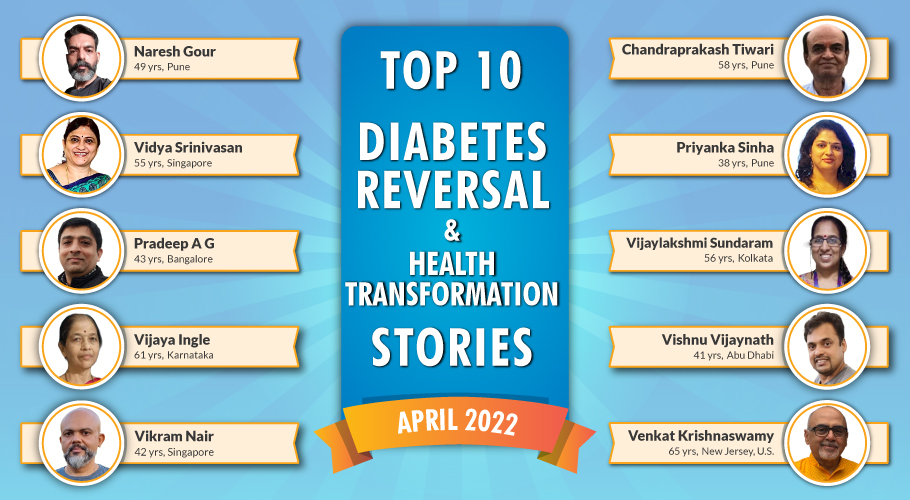 What comes to our mind, when we think of April? I think most of them will say "April Fool's Day". But there is a lot more to April than April Fool's Day. April is a month where notable historical people like Leonardo Da Vinci, Shakespeare, and Queen Elizabeth II were born. It is also a month for meteor showers. In India, April means the hot season, the season of mangoes ...so on and so more.
April has been a great month for FFD too. This month saw many becoming free from their diabetes medicines, insulin, or both. Some succeeded in losing excess weight too. Some got freedom from cholesterol, and BP medicines too.
Here is a list of the top 10 April participants who successfully reversed their diabetes coming to FFD.
Even though we are aware of the facts, live examples make a more impact. Read their stories and get inspired only for your own good!
The most important question that one has in mind is "Can we achieve sustainable reversal?". Naresh Gour's example is the answer to it. He is a 49 years young IT professional from Pune who got to know about his diabetes in 2006. He was on cholesterol medicines too. Came to know FFD through an office colleague. Was a little doubtful, but still Joined FFD and this proved to be the best decision of his life. He not only reversed his diabetes and high cholesterol issue but has achieved sustainable reversal.
Click here to go through his diabetes reversal success story experience
Her story is another example of sustainable reversal achieved at FFD. She is a 55 years old chartered accountant from Singapore who came to know about her diabetes in 2019. Came to know about FFD through VYASA and her life took a u-turn from there. Her medicines stopped in just 11 days of joining FFD and she is enjoying a medicine-free life since 2 years.
Click here to read her Type 2 diabetes personal story
It is assumed that once a diabetic requires to take insulin the things can only get worse. At FFD, we do not think so. There are several hundreds of participants who have stopped insulin permanently after coming to FFD. Pradeep A G is one such example. He was taking insulin for around 8 years, 35 units per day. Joined FFD and became free of insulin in just 20 days. It is proved beyond doubt if one goes the right path showed by FFD, he can become insulin free too.
Read his full type 2 diabetes success story here
Her's is a story of big benefit. She is a 61 years old retired BSNL employee from Hubli, Karnataka who got diagnosed as diabetic in 2006. Finger amputation in 2008 was a big blow to her. Came to know about FFD through youtube and joined it. FFD treatment not only helped her reverse her diabetes but she also successfully lost big 21 kg of excess weight. She is leading a healthy and joyful life now, all because of FFD.
Read her Success stories of beating diabetes
His is a classical co-morbidity reversal story along with diabetes reversal. This Country Head of a nutrition company from Singapore came to know about his diabetes some 12 years ago. Suffered with high BP, cholesterol and overweight issues too. His 12 years of diabetes medicine stopped in just 12 days of joining FFD. Slowly but steadily his other medicines reduced too and just a few days ago, his BP and cholesterol medicines stopped. He is on cloud 9.
Do read his full reversal story here