Aug 22: Top 10 Diabetes Reversal- Health Transformation Stories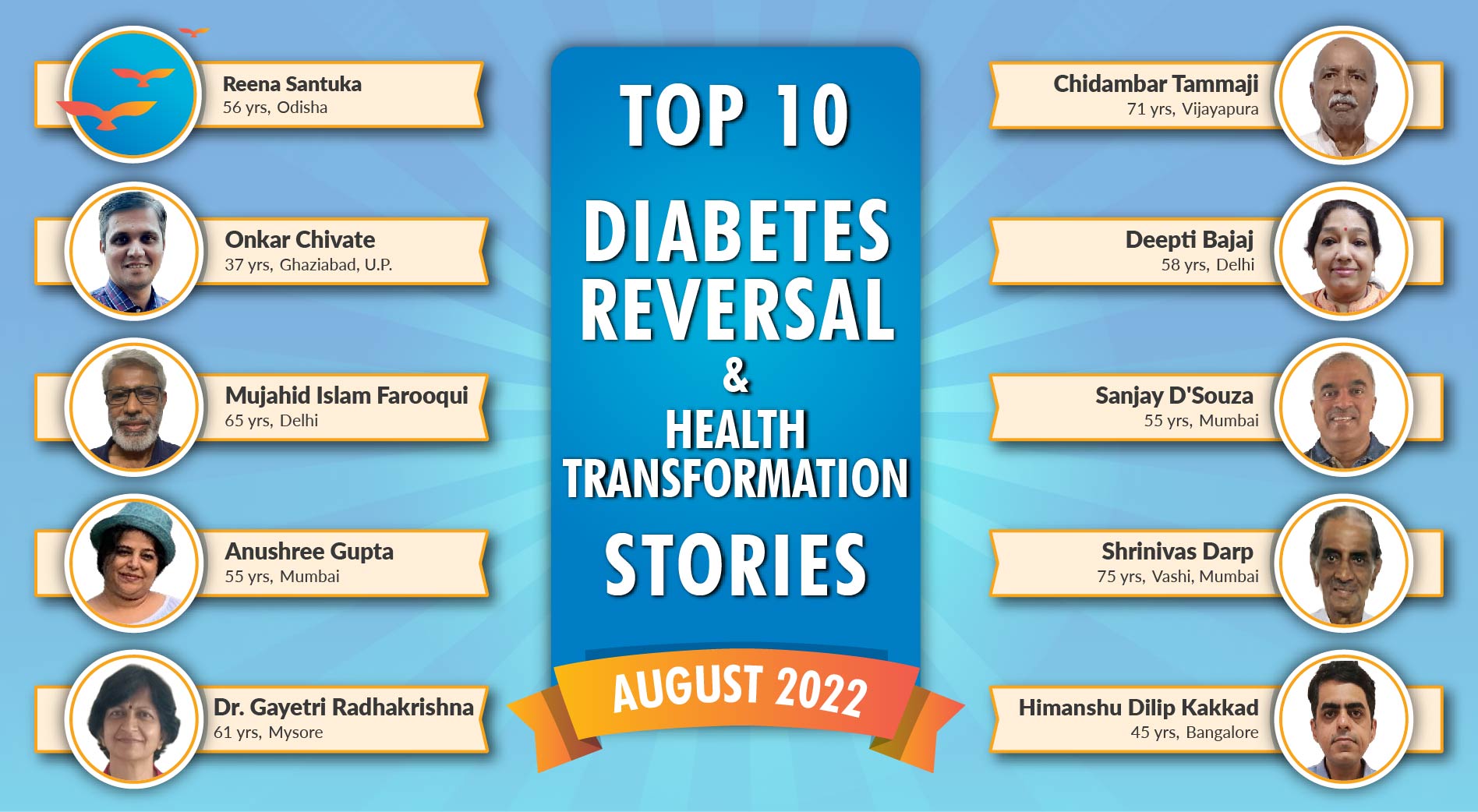 The month of August has a lot of significance in all our lives. It starts with the celebration of Yorkshire Day on the 1st of August. Then there is Friendship Day which is celebrated on the first Sunday. The 12th of August is International Youth Day. For Indians, it is significant as the 15th of August is Independence day.
August month was fruitful for FFD too. We witnessed several participants become free of insulin, and medicine and reverse their co-morbidities successfully. It is the result of their sincere efforts and the education, support, and guidance from FFD.
The below 10 participants are the top 10 freedom participants of FFD who fought their inner troubles and came out victorious.
Mrs. Reena Santuka | Age- 39 years | Odisha

A 56-year-old housewife from Odisha. She found herself to be diabetic during a routine medical checkup. Lack of discipline and control led her to take 42 units of insulin along with cholesterol medicine. Her son came to know about FFD and encouraged her to join.
After joining FFD diabetes reversal program HTP, her insulin stopped, she is off cholesterol medicines too and is extremely happy with her health improvement.
Read his story about type 2 diabetes reversal success story
Mr. Onkar Chivate | Age- 37 years | MH, Karad.
He Is a 37 years young Sr. Manager from MH, Karad. He got to know about his diabetes accidentally. Took the wise decision of joining FFD and got a permanent solution for his diabetes. He is now medicine free, lost 15 kg of excess weight, and feels enriched after coming to FFD.
Read his diabetes reversal success story
Mr. Mujahid Islam Farooqui | Age- 65 years | Delhi
A 65-year-old Business owner from Delhi. His diabetes was diagnosed in a random check, was put on medicines, and explained that he would need to be on medicines and food restrictions for the rest of his life.
Finding all this to be difficult and demoralizing, he kept looking for a solution. FFD was introduced through Facebook. He joined FFD diabetes reversal program HTP and his life changed positively. His 16 years of diabetes medicines took only 1 week to stop with FFD.
Go through his story of how he beat diabetes
Mrs. Anushree Gupta | Age- 55 years | Mumbai
Hers is a beautiful case of the reversal of insulin. She is a professor at Engineering college, Mumbai, who got to know about her diabetes during her pregnancy 23 years ago. She had to be shifted to insulin over some time and this did not go well with her. After learning about FFD through Facebook she joined it and thus began her positive journey toward life. She became insulin-free and lost a remarkable amount of weight too.
Read my full story about how I free from diabetes
Dr. Gayetri Chandrashekhar Radhakrishna | Age- 61 years | Mysore, India
She Is a gynecologist by profession from Mysore. Being a medico herself it was not difficult to diagnose and treat her diabetes, but she was not happy. Learned about FFD through one of her friends who also insisted she enrolls in it. She feels it was her best decision as she is now diabetes medicine free as well as free of cholesterol medicines.
Read this medico's story and know how to beat type 2 diabetes
6. Chidambar Tammaji Joshi


Mr. Chidambar Tammaji Joshi | Age- 71 years | Mysore, India
He Is a 71 years old Retired LIC officer from Vijayapura. He first suffered from cardiac issues for which he was told to get his tests done which revealed high sugars. With time, things became more difficult. Before coming to FFD, he was taking insulin and tablets. After joining FFD diabetes reversal program HTP, his insulin took only 1 month to stop, and medicines also reduced gradually and to the bare minimum now.
Read his incredible story of diabetes reversal
Mrs. Deepti Bajaj | Age- 58 years | Delhi, India
A 58-year-old homemaker from Delhi who was pre-diabetic for 4 years before being fully diagnosed as diabetic. Was on insulin for a brief period but later on, continued with medicines. She faced several problems with high sugars like breathlessness, vertigo, pain in her arms and legs, etc. Her son motivated her to join FFD and the rest is history. She became medicine free in just 2 weeks and her vertigo is also resolved.
Read her full story about beating type 2 diabetes into remission
Mr. Sanjay D'souza | Age- 55 years | Mumbai
A 55-year-old Banker from Mumbai who got to know about his diabetic status 20 years ago. Suffered from high cholesterol and BP and was overweight.
He joined FFD diabetes reversal program HTP and saw rapid improvement in his health. His diabetes medicines stopped in 14 days and succeeded in losing a big 19 kg weight.
Read his full transformation story