Dec 22: Top 10 Diabetes Reversal- Health Transformation Stories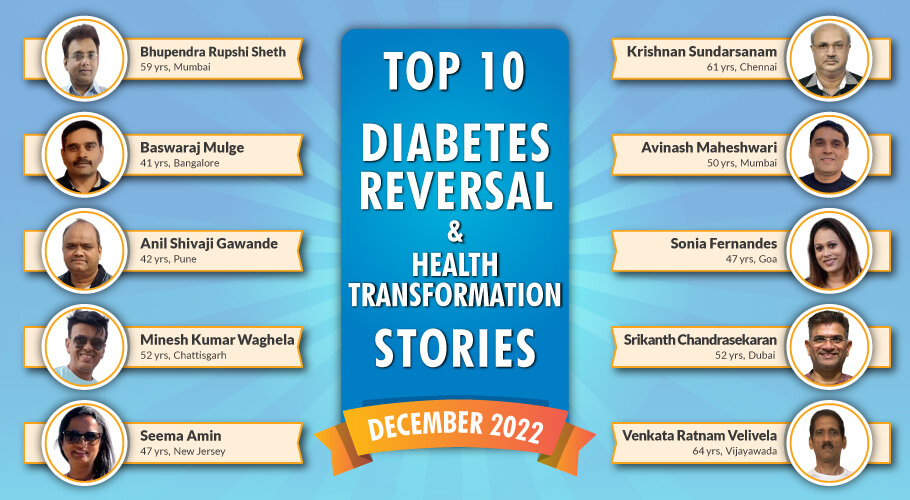 December is a month of celebrations. Health-wise, it begins with a good cause the first of December being World AIDS day. The end of the month has Christmas and New Year evenings in store for everybody.
This last month of the year also makes everybody think about their plans, resolutions, and goals. Many people who think about reversing diabetes and regaining health have proactively made a good decision of joining Freedom from Diabetes this month. We appreciate their well thought of decision towards regaining good health.
Freedom from Diabetes with a success number of seven people becoming free from medicine each day is happy to announce the following top 10 success stories of December.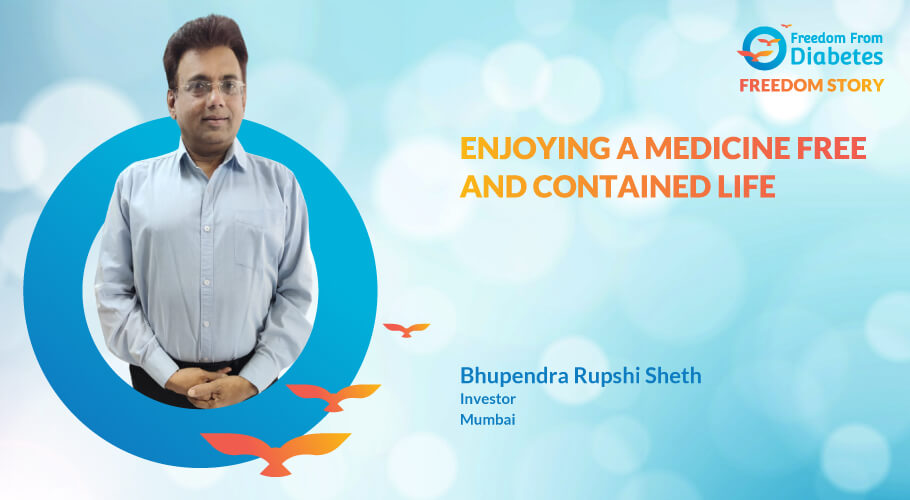 Mr. Bhupendra Rupshi Sheth | Age- 59 Years | Mumbai, Maharashtra | Investor
He is a 59 years young Investor from Mumbai who got to know about his diabetic status after having an unusual infection. Consulted several diabetologists, and endocrinologists but was not satisfied with their responses.
Joined FFD to reverse diabetes naturally. He is now free from diabetes medicines and living a much-contained life.
Read his transformative story here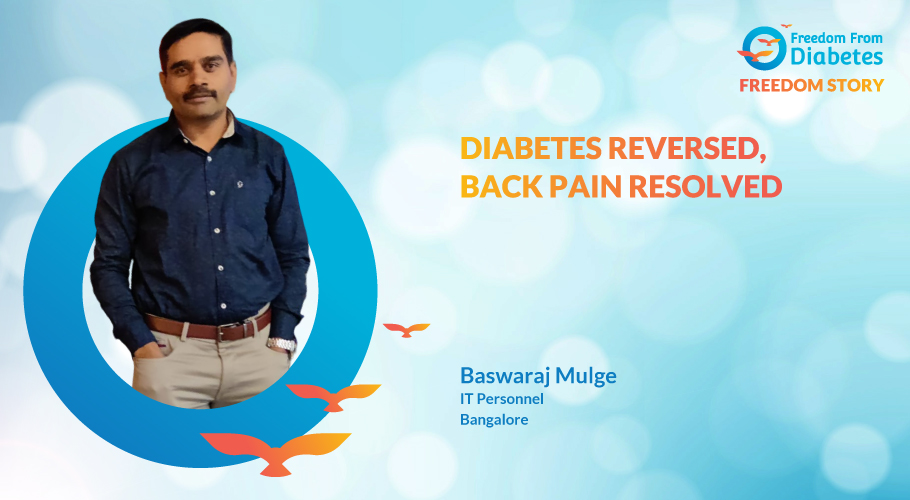 Mr. Baswaraj Mulge | Age- 41 Years | Bangalore | IT Personnel
He is a 41 years young IT professional from Bangalore. His story is a beautiful example of diabetes and back pain reversal with FFD. An annual checkup done in 2022 disclosed him to have diabetes.
He also suffered from back pain, the occupational hazard of being in IT. Joined FFD as he did not want to take medicines and reverse his condition. He is very happy with FFD treatment as he is now free from diabetes and back pain.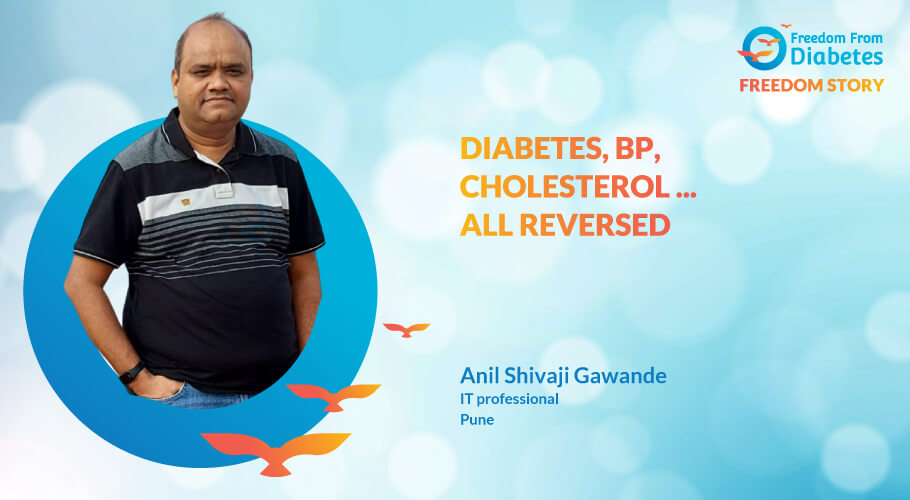 Mr. Anil Shivaji Gawande | Age- 42 Years | Pune | IT professional
He is a 42-year-old IT professional from Pune. Routine tests done in 2018 revealed him to be a diabetic. An improper lifestyle and stressful profession made him gain a lot of weight too.
Joined FFD to get customized treatment. With FFD treatment, he lost 25 kg of weight and is free from all - diabetes, BP, and cholesterol medicines.
Read his full transformation story here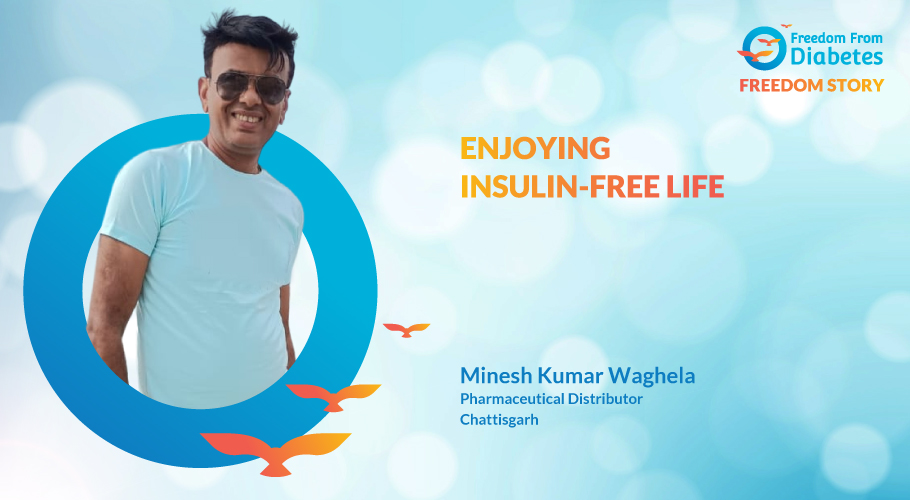 Mr. Minesh Kumar Waghela | Age- 52 Years | Chattisgarh | Pharmaceutical Distributor
He is a 52 years young Pharmaceutical Distributor from Chattisgarh. Long-term stress and an irregular lifestyle lead him to have diabetes.
Diabetic neuropathy was the fire alarm that made him join FFD. He is very happy and satisfied with FFD treatment as he is free from 36 units of insulin with reduced medicines and increased stamina.
Read his story to know how FFD gave him life 2.0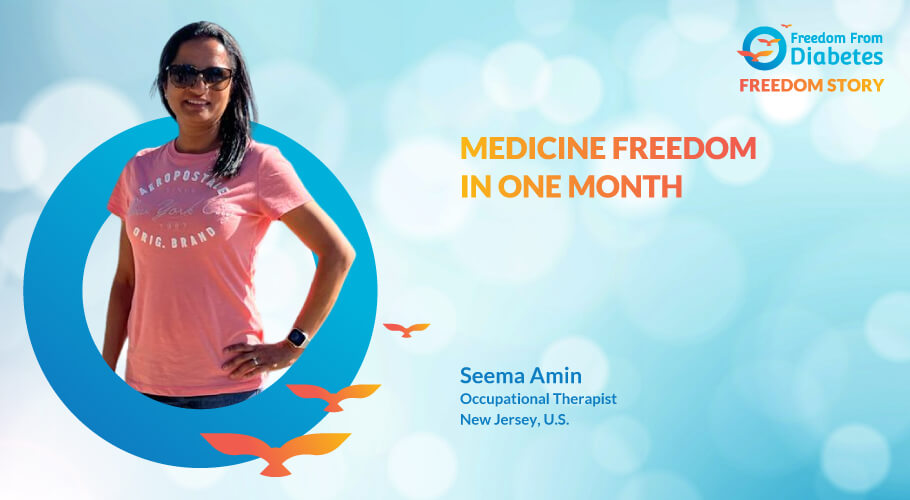 Mrs. Seema Amin | Age- 47 Years | New Jersey, U.S.A | Occupational Therapist
She is 47 years young Occupational Therapist from New Jersey. She never wanted to be on medicines and so immediately started looking for a solution after being diagnosed as a diabetic.
Luckily came to know about FFD through her friend and joined it. Her medicines stopped one month into the FFD program and she has become much leaner now.
Read her transformational story here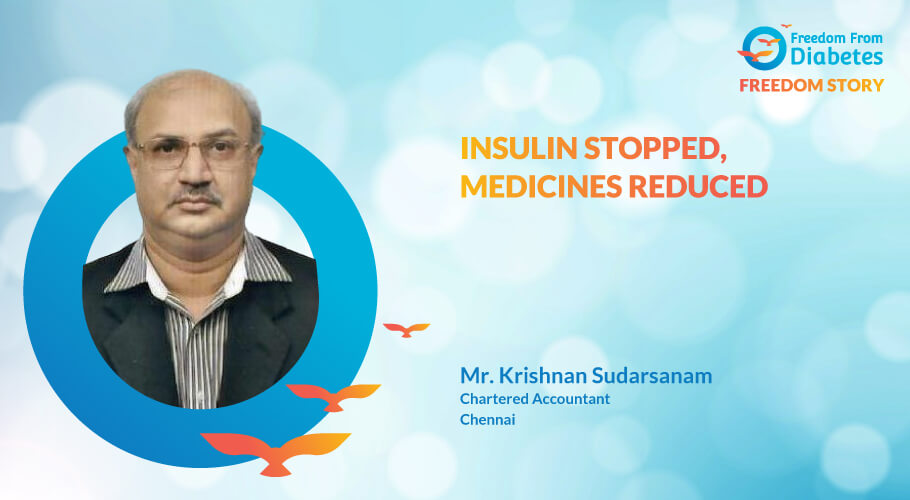 Mr. Krishnan Sudarsanam | Age- 61 Years | Chennai | Chartered Accountant
He is 61 years young Chartered Accountant and Company Secretary from Chennai. Sudden weight loss made him undergo investigation which revealed diabetes.
Post-COVID had to be started on insulin which did not go well with him. Joined FFD after being introduced through his friend and has never looked back again.
Read his insulin reversal story here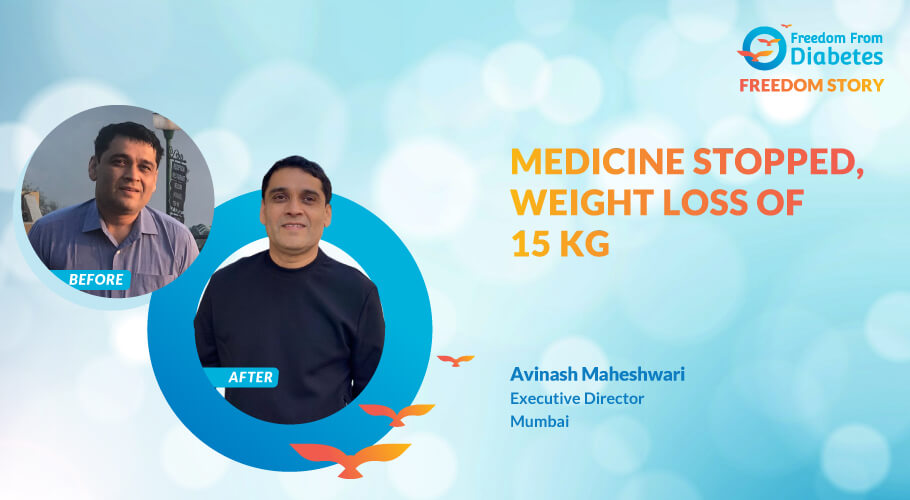 Mr. Avinash Maheshwari | Age- 50 Years | Mumbai | Executive Director
He is 50 years young Executive Director from Mumbai who got to know about his diabetes in 2018. His family history and fast-paced lifestyle contributed to this condition.
High HbA1c made him get worried and look out for some solution that he found in FFD. With FFD, he has made great progress.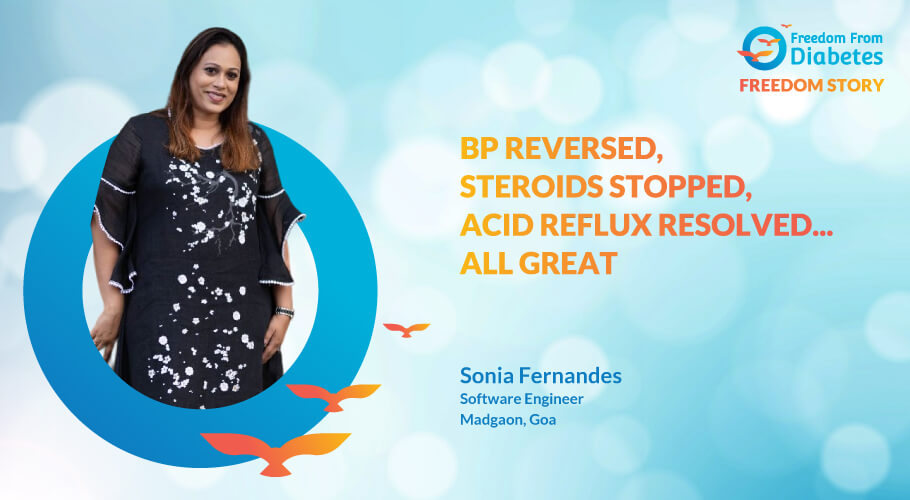 Mrs. Sonia Fernandes | Age- 47 Years | Madgaon, Goa | Software Engineer
She is a 47 years young Software Engineer turned business women from Madgaon, Goa. Strong paternal family history and job stress were the two strong reasons for her to have diabetes.
Upon seeing her father's suffering she decided to do something for herself. Joined FFD and has nothing to regret about it.
FFD not only treated her diabetes but correctly diagnosed her acid reflux which has helped her stop steroids that she was taking for wrongly diagnosed asthma.
Read her story to know how FFD helped her regain health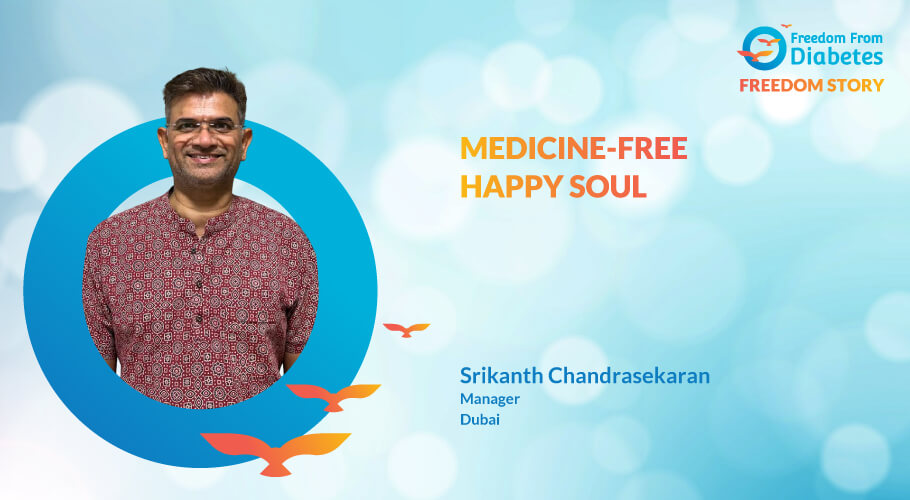 Mr. Srikanth Chandrasekaran | Age- 52 Years | Dubai | Manager
He is a 52-year-old manager from Dubai whose diabetes was diagnosed 12 years ago. Did not face any major consequences but wanted to become free of medicines.
Enrolled in FFD program after coming to know about it from Dr. B. M. Hegde's video. He is now a happy soul who is free from diabetes with reduced thyroid and cholesterol medicines.
Read his motivational story here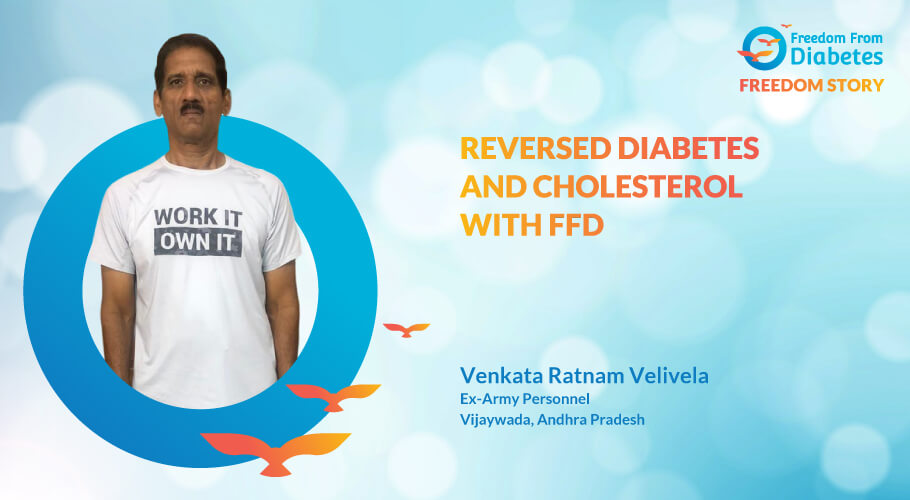 Mr. Venkata Ratnam Velivela | Age- 64 Years | Vijaywada, Andhra Pradesh | Ex-Army Personnel
He is a 64 years young ex-army personnel from Vijayawada, Andhra Pradesh. Accidental diagnosis of diabetes while taking treatment for typhoid was quite upsetting for him.
Increasing medicines weakened immunity had made his life difficult. Joined FFD program to reverse diabetes and avoid complications. He is extremely happy as he has benefitted immensely from coming to FFD.
Do read his diabetes and co-morbidity reversal story here


Success stories are always an inspiration and one should take advantage of them. Going through all their achievements gives us an idea about how and in what ways one can achieve good health with proper knowledge, guidance, and support.
Freedom from Diabetes helps people not only reverse their diabetes but also reverse co-morbidities and lifestyle disorders.
Attend our two-hour introductory session DRS to get a fair idea about how diabetes reversal happens and enroll in our one-year type 2 diabetes reversal program HTP to begin your reversal journey.
Here's wishing you a very Happy and Healthy New Year