Oct 22: Top 10 Diabetes Reversal- Health Transformation Stories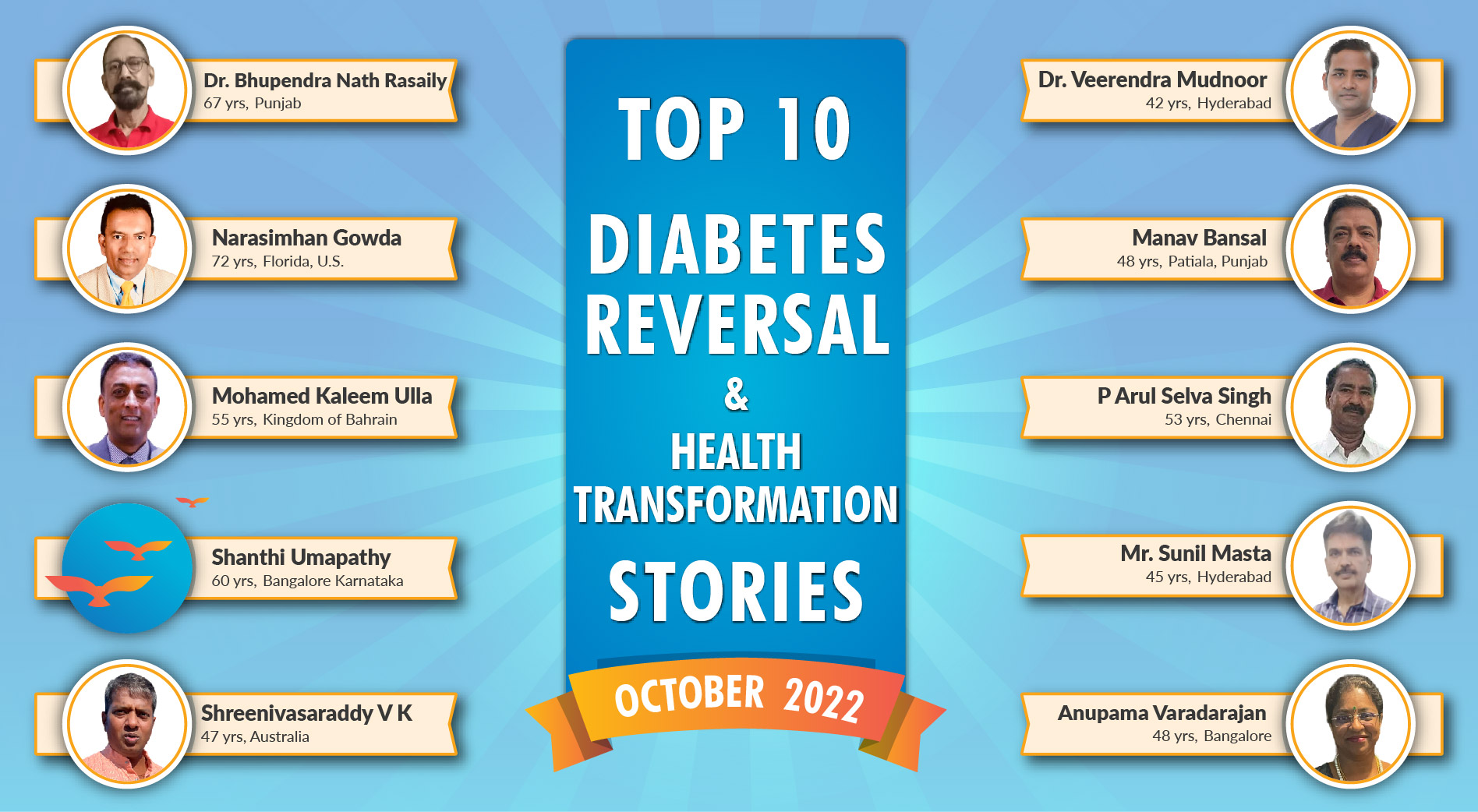 The October month began on the right note with October 1st being "The international older persons as well as World Vegetarian Day."
It has been a month full of celebrations, especially for Indians thanks to Dusshera and Diwali.
Likewise, it has been very fruitful for us too.
Despite so many functions, FFD'ians showed their determination and integrity towards our protocols and we saw many becoming free from medicines, insulin, or both.
Many succeeded in losing 10 to 20 kg of weight and reversed their co-morbidities like cholesterol, hypertension, and thyroid.
We are very proud to announce the top 10 diabetes success stories of the month of October
Dr. Bhupendra Nath Rasaily| Age - 67 years | Punjab, India | Homeopathy Doctor


This is a notable case of diabetes and comorbidity reversal from Punjab. Dr. Bhupendra is a homeopathic doctor who got to know about his diabetic status in 2003-2004. Deep within he believed diabetes is a pharmaceutical hoax and so knew there was a way out which he found in FFD. Joined HTP and is now not only free of diabetes medicines but also of cholesterol medicines.
Read this medico's success story here
Mr. Narasimhan Gowda | Age - 72 years | Florida, U.S. | Investor


This is an interesting story from Florida, U.S.A.
Mr. Gowda a 72 years old investor, got know about his diabetes in 2010. He tried to maintain normalancy by remaining active but things got difficult. He was put on insulin from 2014-2019. Fed up with sleep apnea and diabetes, he joined us. Besides being free of medicines, his sleep apnea issue has also been resolved.
Read his full story here to know how FFD helped in this magical improvement
Mr. Mohamed Kaleem Ulla | Age - 55 years | Bahrain | Regional Director - Lulu Hypermarkets


Mohammed is a 55-year young Regional Director from the Kingdom of Bahrain. He started on diabetic medicines after being diagnosed with diabetes in 2018. Luckily, no major problems surfaced but deep within he wanted to get rid of medicines and joined FFD's HTP. His achievement is remarkable as he could defeat diabetes despite having a strong diabetic family history.
Read his full story to know how he beat hereditary diabetes with FFD's help
Mrs. Shanthi Umapathy | Age - 60 years | Bangalore Karnataka | Corporate Professional


Shanti, is a 60 years old corporate professional from Bangalore. Though not a diabetic, she wanted to lose weight. She joined FFD as soon as she came to know that we also helps with weight loss. She's lost 15 kg and is very happy!
Mr. Shreenivasaraddy Vishnuraddy Kamaradder | Age - 47 years | Australia | Dentist and business owner


Shreeni is a 47-year-old dentist from Australia. His diagnosis was random as he didnt have any specific symptoms as such. Having witnessed the sufferings of his family members he was keen to get bring control back He has regained his health completely and is now hale and hearty!
Dr. Veerendra Tippanna Mudnoor | Age - 42 years | Hyderabad, India | Orthopedic Surgeon


Veerendra is a 42 years young orthopedic surgeon from Hyderabad, Telangana. His success story is an important addition to our FFD's freedom list. Being a medico himself, he tried a few techniques to control diabetes and succeeded in reducing his medicines too. Joining HTP turned out to be a turning point in his life. He is not only medicine free but 10 kg lighter and feeling super energetic.
Mr. Manav Bansal | Age - 48 years | Patiala, Punjab | Businessman


Meet Manav, a 48-years young businessman from Patiala, Punjab. COVID gave him 2 gifts, diabetes and hypertension. He was put on insulin then shifted to medicines. Impressed with FFDs natural and scientific approach, he joined HTP and says he has only benefitted immensely. He is now free of medicine and lost 14 kgs.
Do read his total transformative story here
Mr. P Arul Selva Singh | Age - 53 years | Chennai, India | Sr. Manager


Arun, a 53 year young Sr. manager got to know about his diabetes in a routine medical checkup. He tried to manage with medicines in the initial years but had to be shifted to insulin which went up to 72 units per day. Realizing insulin was doing other damage too he associated with FFD and has not looked back since. He is now free of 72 units of insulin, lost 20 kg of weight, and in great spirits!