February 2022: Top 10 Diabetes Reversal and Health Transformation Stories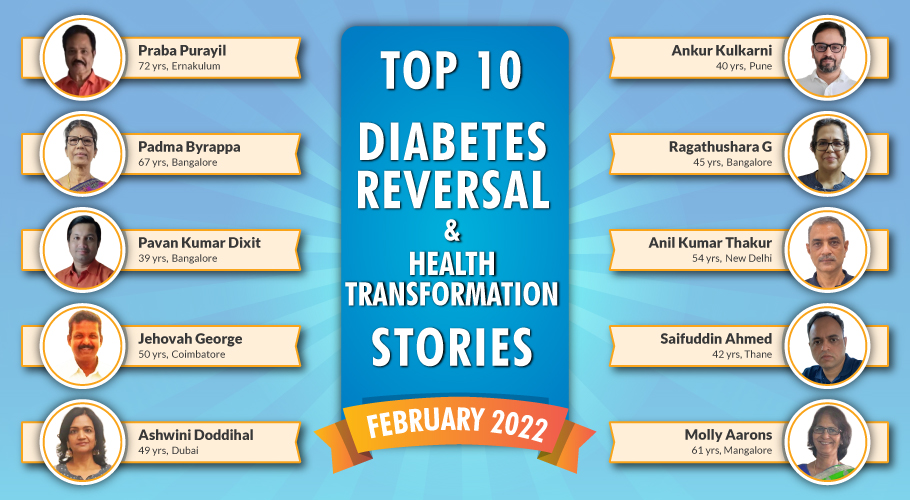 February is a beautiful month of the year where love is celebrated all over the world. FFD participants did not stop themselves from celebrating it. They celebrated it in a different way though. They gave the beautiful gift of Freedom from Diabetes to their loved ones by becoming free of medicines, insulin. It is definitely a special gift for those who really care for you.
All this could not have happened without their own efforts and of course FFD's guidance and support. Several hundred's became free this month
Here is a list of the top 10 participants for you all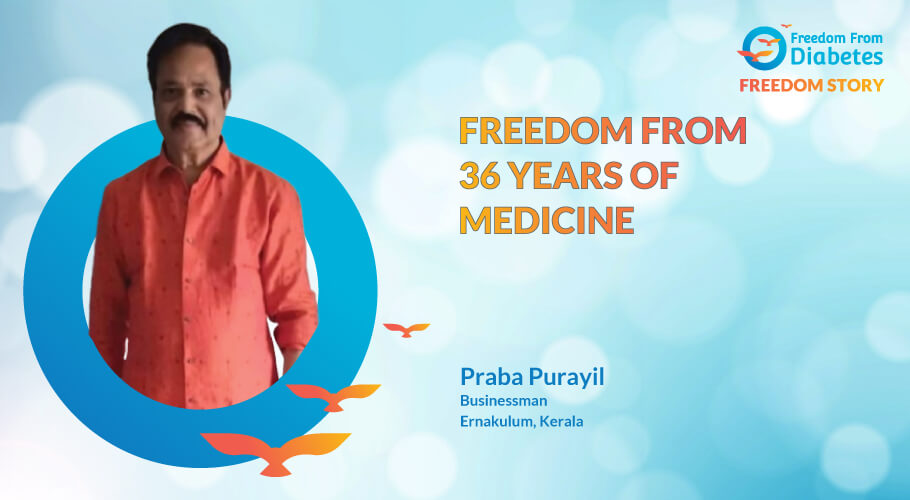 Mr. Praba Purayil | Age- 72 years | Ernakulum, Kerala
He was diabetic for 36 long years before coming to FFD. Suffered from all sorts of health problems. He started following FFD protocols as recommended and magic happened. Soon his medicines and insulin dosage started reducing and one fine day he was told to stop both. He is medicine and insulin-free now- 36 years of diabetes, gone in just a few days.
Do read his Diabetes Success Story
Mrs. Padma Byrappa | Age- 67 years | Bangalore
She is a 67-year-old medical lab professional from Bangalore. She was a diabetic for 32 long years before joining FFD. Faced several problems like constipation, tiredness, high cholesterol, hypothyroid, weight loss, hair loss, joint pain along with fluctuating sugars. Came to know about FFD through Facebook, joined it and her life totally changed. Her 32 years of medicines stopped in just 23 days and to her surprise, FFD helped her gain weight too!
Do read his diabetes success stories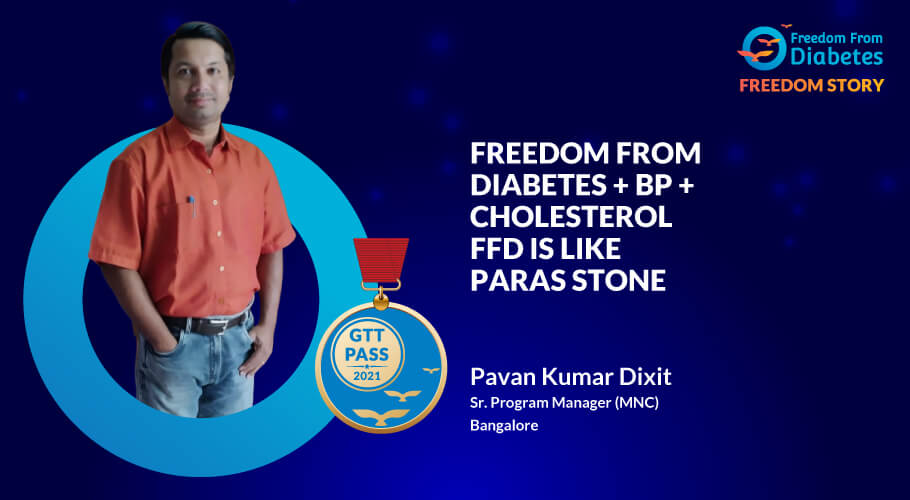 Mr. Pavan Kumar Dixit | Age- 39 years | Bangalore
It is a classical story of co-morbidity reversal at FFD. He got diabetes at a very young age of 27 years. Suffered with BP and high cholesterol issues too. Came to FFD and it changed his erratic lifestyle to a disciplined one. He not only became free from diabetes but achieved freedom from BP and cholesterol medicines too.
Do read his reversal of co-morbidities is a great achievement.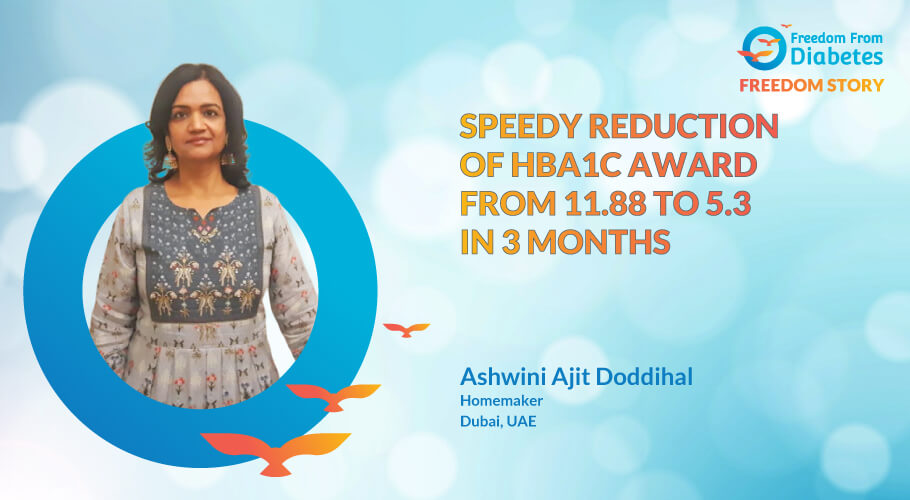 Mrs. Ashwini Ajit Doddihal | Age- 49 years | Dubai, UAE
Her journey makes us FFD people very proud. She is a 49 years young homemaker from Dubai who was in the pre-diabetic range for some time but then it culminated into proper diabetes in 2020. She became free of medicines in just 1 month of joining FFD. But the most interesting part is she got nominated in the Fastest HbA1c reduction category at Muktotsav 2021. A speedy reduction in HbA1c from 11.88 down to 5.3 in 3 months - all due to FFD.
Read her diabetes reversal success story
Mr. Jehovah G. George | Coimbatore Tamilnadu
He is a journalist from Coimbatore, Tamilnadu. His random blood sugar level was found to be very high 540 around 400 points above normal and HbA1c to be 16.5. Reluctant to take allopathy medicines, tried naturopathy but it did not work. Came across FFD and began his journey of total transformation. To his surprise, all his diabetes medicines stopped in just 10 days. He saw a weight reduction of 20 kg in 4 months and is a happy soul now.
Read his type 2 diabetes reversal success story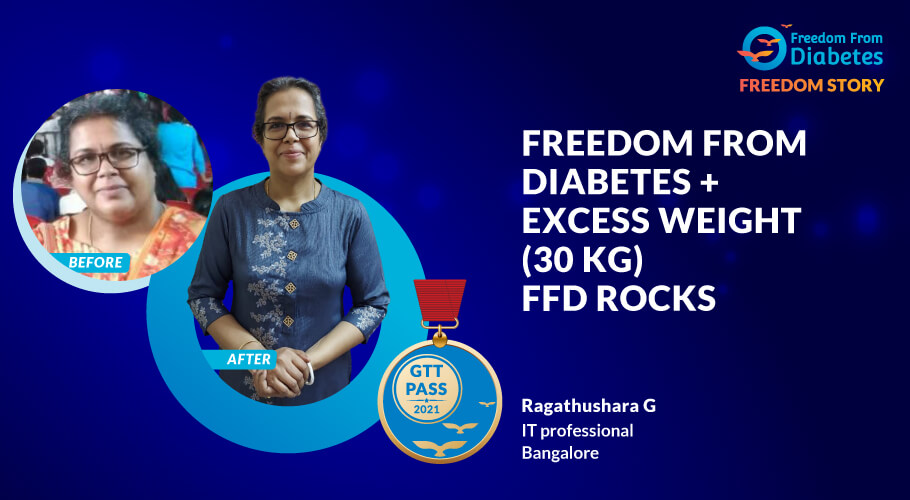 Mrs. Ragathushara G | Age- 45 years | Bangalore
She is a 45-year-old IT professional from Bangalore. She became aware of her diabetes 6 years before and was put on anti-diabetic medicines immediately. Suffered from obesity, frozen shoulder, high cholesterol etc. At FFD, her medicines stopped in just 15 days. Losing huge amount of weight is not easy. She lost 30 kg of excess weight after joining FFD and is on cloud 9.
Here is her diabetes success stories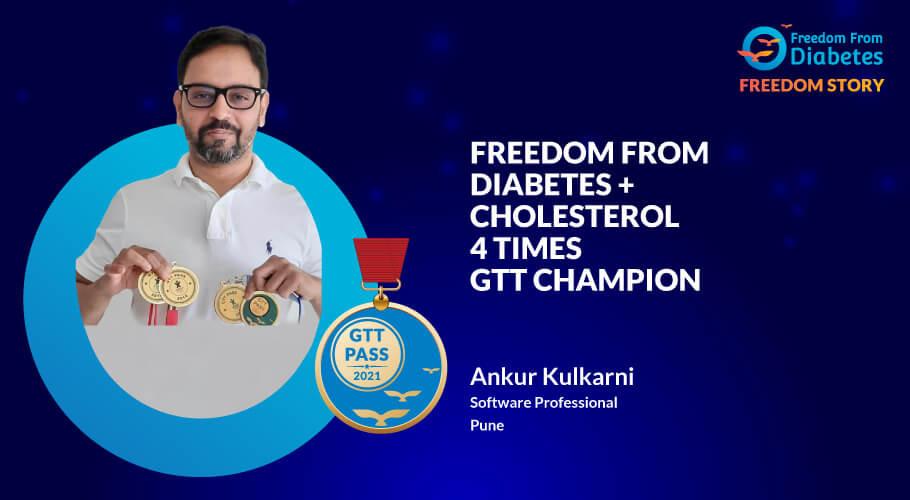 Mr. Ankur Kulkarni | Age- 40 years | Pune
He is a 40 years young Software Professional whose story is worth noting. He became diabetic at a very young age of 28-29 years, suffered from weakness, pain in the lower abdomen, and lethargy. Attended TRP - Transcendental Residential Program of FFD and his life took a U-turn. He not only successfully reversed his diabetes but has cleared GTT 4 times!
Read his amazing diabetes reversal story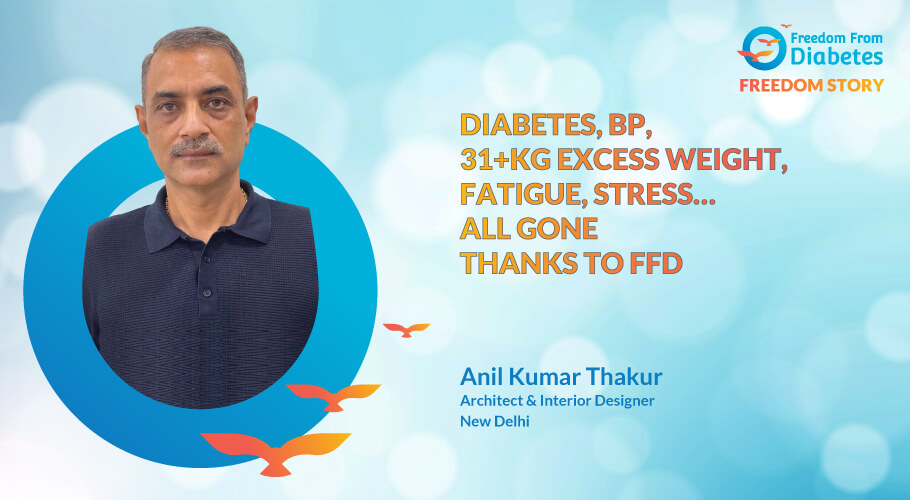 Mr. Anil Kumar Thakur | Age- 53 years | New Delhi
His story gives us an idea of how much one can benefit from FFD. He suffered from BP since 2008, later diagnosed as diabetic, had put on weight up to 93.5 kg -all of which made his life difficult. Joined FFD with lot of hope and truly got more than what he expected. His diabetes reversed, BP also reversed, lost 31 kg weight too. It is a complete win-win situation for him now.
Here is his incredible diabetes reversal story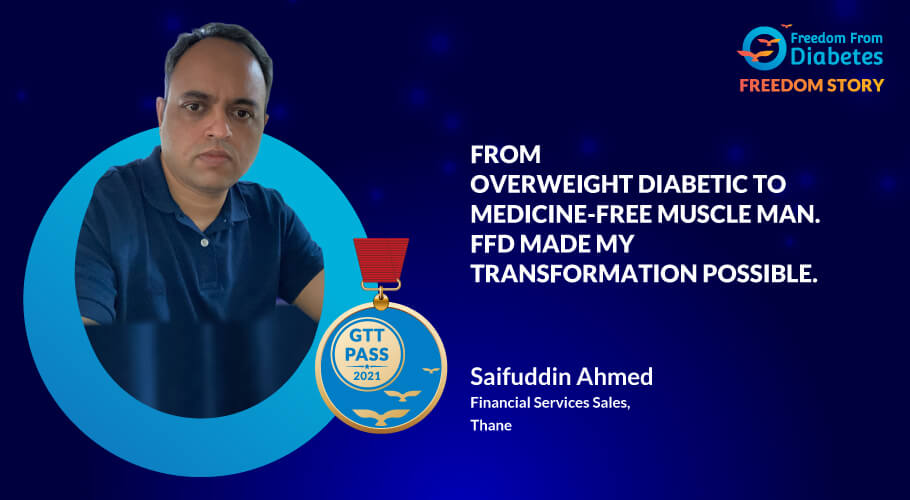 Mr. Saifuddin Ahmed | Age- 42 years | Mumbai, Thane
FFD turned out to be a Lifestyle reversal program - truly for him. Saiffudin Ahmed is a 42 years young Financial service salesperson from Mumbai who pushed himself into diabetes due to a poor lifestyle and bad eating habits. Medicines kept changing and increasing but nothing worked. He landed at FFD and wonder happened. His diabetes medicines stopped, he lost 10 kg weight and now does gymming regularly.
Read his Type 2 diabetes remission story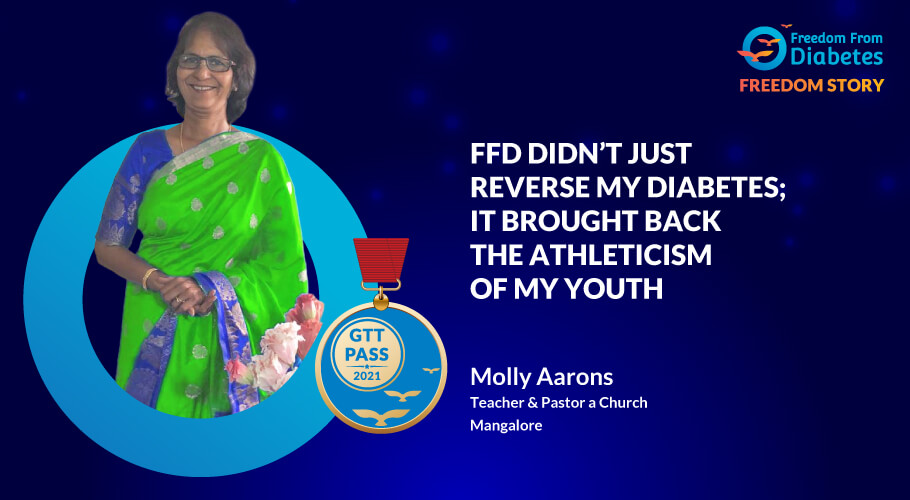 Mrs. Molly Aarons | Age- 62 years | Mangalore, Karnataka
He is an interesting person. She is a teacher, pastor and fitness buff all at the same time. She suffered from a fall and that is when her diabetes got diagnosed. COVID time made it even harder for her and she suffered from BP and neuropathy. She joined FFD and reversed diabetes, also lost 18 kg of weight. Now is very happy as feels as fit as when she was in her younger days.
Read her diabetes success story


The above examples are just the tip of the iceberg. FFD's success number is now 11,500+ people free from diabetes medicines and insulin. FFD also helps in the area of obesity, high cholesterol, BP, thyroid, reversing lifestyle disorders, etc. This huge success is because of its well-designed, well-structured IRP program based on 4 strong pillars - diet, exercise, inner transformation, and medical. FFD has a well-equipped team of experts who have expertise in customized treatment to help speedy and sustainable reversal.
---
Start your "Diabetes Reversal" journey with us by participating in our Discover Reversal Session. It is the introductory session of our annual diabetes reversal program which we call a Holistic Transformation Program conducted by Dr. Pramod Tripathi himself. Enroll in the upcoming online session now to learn how you can also reverse your Diabetes.