Nov 22: Top 10 Diabetes Reversal- Health Transformation Stories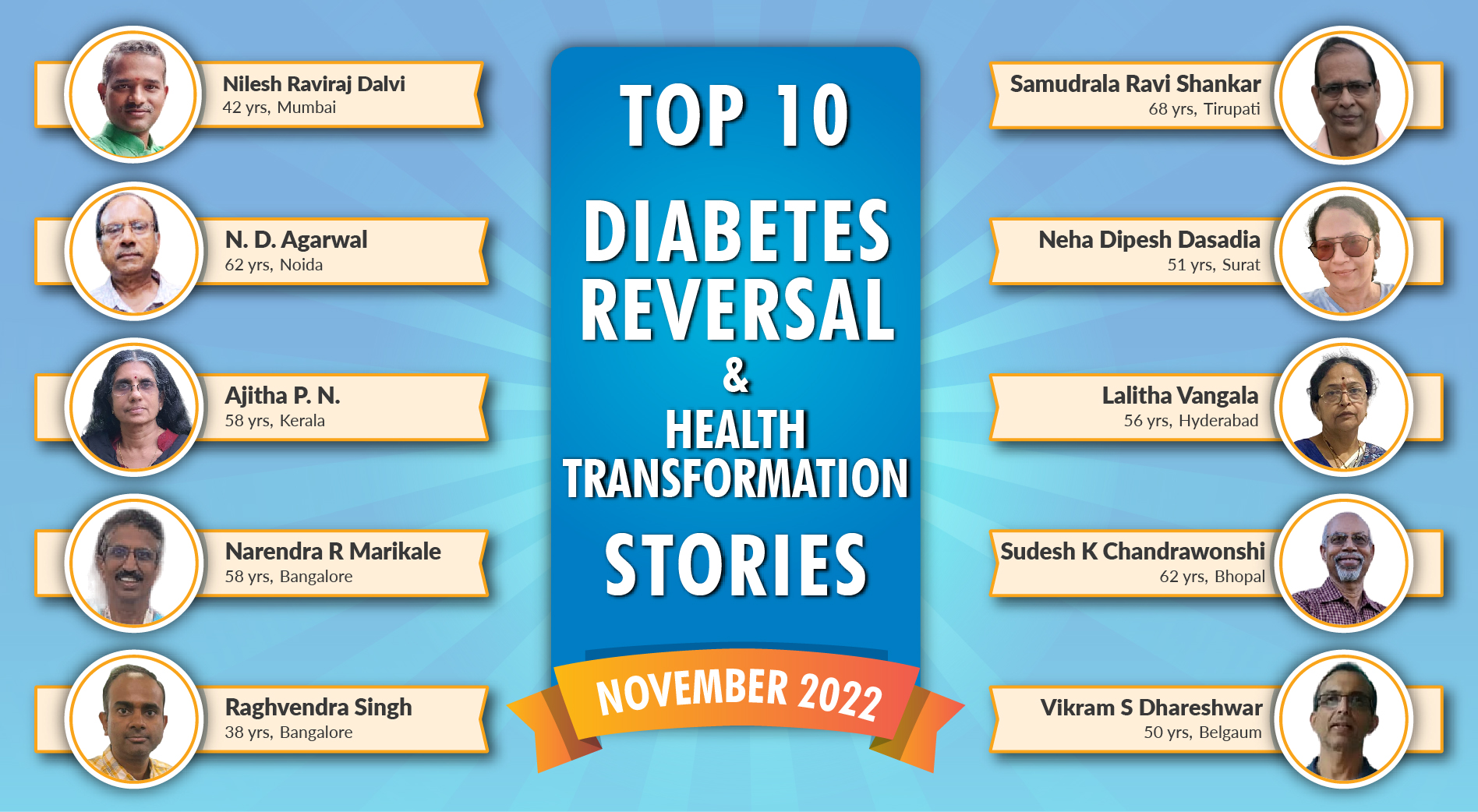 The month of November began on the right note with the 1st being World Vegan Day. We all know Veganism is the first step towards good health. It was an extra special month for FFD as 14th November is celebrated as World Diabetes Day.
Freedom from Diabetes has been working towards creating awareness about diabetes, its complications, and how it can be reversed. We are very proud to announce that since its inception in 2013, we have successfully helped 13500+ people become free of medicine, insulin, and both.
Not only this, we help people reverse cholesterol, hypertension, and thyroid. With our 4 powerful protocols - diet, exercise, inner transformation, and medical we have helped thousands reduce their weight too.
Here are the top 10 participants of November month who overcame their barriers and achieved their goals successfully with FFD
Mr. Nitesh Raviraj Dalvi | Age- 42 Years | Vasai, Maharashtra | Process Manager
Is a 42 years young old process manager from Mumbai. He acquired the disorder at the early age of 38 and faced several problems due to it.
His journey with FFD is remarkable as he saw a big drop in HbA1c from 12 to 6.3 just within three months of joining and more.
Read his full story to learn how FFD helped him in his magical transformation.
Mr. N D Agrawal | Age- 62 Years | Noida, India | Bharat Petroleum (Retd)
An ex-Bharat Petroleum employee got to know about his diabetic status in 2007. Over time, medicines graduated to an insulin dose of 20 units per day which was pretty annoying. Joining HTP proved to be the right decision as he is now happy being free of insulin with reduced medicines.
Read his story here to learn how FFD helped him in his insulin reversal and more.
Mrs. Ajitha P N | Age- 58 Years | Kerala | Housewife
A 58-year-old housewife from Kerala got diabetes in the year 2010 and was maintained on medicines. Her father's foot amputation was the turning point that made her think seriously about the disorder and she joined FFD for it. With FFD, she is not only free from diabetes but also free from cholesterol medicines.
Read her co-morbidity reversal story here
Mr. Narendra Rampura Marikale | Age- 58 Years | Bangalore | Telecom Company
A Telecom Company employee from Bangalore was suffering from diabetes since 1996. He was also on medicines for BP. Joined FFD upon the recommendation of his program manager and this just changed his life. His diabetes medicines stopped within eight months and soon he got free of hypertension medicines too.
Read his full story to know how FFD helped him reverse hypertension too.